2004 Season Preview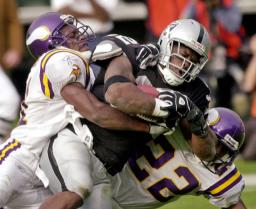 ---
For the Raiders, the signs of change are everywhere. There are new players, a new coaching staff and new schemes on offense, defense and special teams.
High-profile veterans Tim Brown, Charlie Garner, Rod Woodson and Barret Robbins are no longer on the team that crashed and burned last season.
Gone is coach Bill Callahan, who reportedly angered many players with a tyrannical approach one season after leading the Raiders to the Super Bowl.
Enter ex-Washington Redskins coach Norv Turner, who inherits the mess that Callahan created. Enter Pro Bowl defensive tackles Warren Sapp and Ted Washington, who are being counted on to upgrade the league's worst run defense in 2003.
Turner, who had a 50-60-1 record in six plus seasons with the Redskins, faces a daunting challenge. Last season the Raiders equaled the league's worst record (4-12), they ranked first in penalties allowed, tied for 26th in scoring and ranked 30th in total defense.
The Raiders must improve in many areas to contend for a winning season, let alone a postseason berth. Here's a capsule outlook:
Burning Questions

Will Norv Turner provide coaching stability and earn the respect of a veteran team that had a locker room mutiny under then-head coach Bill Callahan in 2003? Turner was 17-12 in his final 29 regular-season games with the Redskins at the time of his firing by Washington owner Daniel Snyder 13 games into the 2000 season.

Will Rich Gannon hold off the challenge of Kerry Collins? When the Raiders signed former New York Giants' starter Collins in May, they created the atmosphere for the franchise's first quarterback controversy in over a decade. At 32, Collins is six years younger than Gannon, who's scheduled to make $7 million this season. Last season, Gannon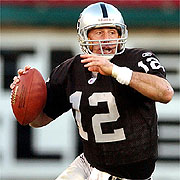 (photo right) was ineffective in six plus games before sustaining a season-ending shoulder injury. Collins, who has thrown for over 3,000 yards each of the past four seasons, reportedly will earn $600,000 in 2004, $4.7 million in 2005 and $6 million in 2006. Also, the 38-year-old Gannon must show he has the arm strength to thrive in Turner's vertical passing game as opposed to the dink-and-dunk pass offense favored by Callahan. During the 2004 exhibition season, both players distinguished themselves. Gannon completed 58.0 percent of his passes (29 of 50) for 298 yards and one TD and an 111.6 passer rating, while Collins had a 56.0 completion rate (14 of 25 passes) for 344 yards and four scores and a sizzling 140.4 rating. Let the debate begin.

Will seven-time Pro Bowler Warren Sapp resurrect his career with the Raiders? Sapp's critics say the former Buccaneers defensive demon is on the decline after he had only five sacks (his fewest since his rookie season with Tampa Bay in 1995) last season. First-year Raiders defensive coordinator Rob Ryan plans to employ Sapp (photo below)

anywhere on the defensive line (end, tackle, nose tackle) in hopes of creating a favorable one-one-one matchup. Despite the fact that the trash-talking Sapp isn't the same dominating player he was earlier during his career (he had 29 sacks in 1999-2000), the 10-year veteran still should have plenty of venom left for opposing blockers. "The Raiders are back, and I'm going to have something to do with that," Sapp told Bay Area media after he signed a reported $36.6 million deal with Oakland in March.

Will Norv Turner's power-running game be productive without a Pro-Bowl caliber running back? Tyrone Wheatley, who rushed for a career-high 1,046 yards in 2000, will enter the regular season as Oakland's No. 1 ball carrier. Justin Fargas and short-yardage specialist Zack Crockett (photo top) also will share the load. Through the years, Turner has developed potent rushing attacks with elite backs Emmitt Smith, Stephen Davis, LaDainian Tomlinson and Ricky Williams.

Will the Raiders receivers, led by starters Jerry Rice and Jerry Porter, struggle to get open like they did last season? Oakland wideouts contributed only six receiving touchdowns in 2003. During Oakland's 2004 exhibition season, Doug Gabriel emerged as a potential impact player by catching three touchdown passes.

Are the Raiders safeties capable of making game-turning plays? Former Atlanta Falcons cornerback Ray Buchanan will start at free safety after former Pro Bowler Rod Woodson failed his physical before training camp. The starter at strong safety is undecided entering the regular season after incumbent Derrick Gibson went on injured reserve Sept. 5 because of a dislocated right shoulder. Former Packer Marques Anderson and rookie Stuart Schweigert are the leading candidates to replace Gibson, who isn't considered an impact player.

Will the hiring of Joe Avezzano help upgrade Oakland's porous special teams' play? In 2003, the Raiders ranked 32nd (last in the NFL) in kick coverage, 30th in punt coverage and 24th in kick returns. Enter Avezzano, who won three Super Bowl rings with the Dallas Cowboys as their special teams coach during the early 1990s. Good luck, Joe.
Players To Watch
Kerry Collins - Waiting for his chance if Gannon falters.
WR Jerry Porter - The Raiders' new go-to receiver has averaged only 24.8 catches during his first four NFL seasons. The former West Virginia star had only 28 catches in 2003 (he missed six games because of injury). The previous season, he had 51 catches including 9 for touchdowns and starred in the postseason.
OT Robert Gallery - Oakland's 2004 top draft pick (second overall choice) projects as a Pro Bowl-caliber-blocker for years to come.
CB Phillip Buchanon - Big-play punt returner who has yet to show he has the skill and demeanor to be an everydown defender.
DT Ted Washington - One of the league's premier run stoppers has missed significant playing time each of the past two seasons because of foot and leg injuries.
RB Justin Fargas - Has breakaway speed in the mold of former Raiders running backs Napoleon Kaufman and Garner, but can he avoid the injury bug that plagued his rookie season and college career?
Did You Know?
Norv Turner is the Raiders' sixth head coach in 11 seasons. The others: Art Shell (1989-94), Mike White (1995-96), Joe Bugel (1997), Jon Gruden (1998-2001) and Bill Callahan (2002-2003).
---
In his three seasons with the Raiders, cornerback Phillip Buchanon has scored three touchdowns on interceptions and three on punt returns. His six touchdowns came in only 22 games - making the ex-Miami star the fastest player to reach the plateau since 1970.
---
Rich Gannon and Kerry Collins were starting quarterbacks on teams (Raiders and New York Giants) that went 4-12 in 2003.
---
The Raiders have lost their past nine regular-season road games. Their last road victory was a 27-7 triumph over San Diego on Dec. 8, 2002.
---
For the first time since 1998, Oakland isn't scheduled for Monday Night Football. The Raiders play two Sunday night games - the Tampa Bay Buccaneers in Oakland on Sept. 26 and the Broncos in Denver on Nov. 28.

History Lesson

In 1963, Al Davis' first season as Raiders coach, the American Football League team went 10-4 - one year after going a franchise-worst 1-13.

Bottom Line

With plenty of new faces, the Raiders believe they have the potential to emulate the path of the 1999 St. Louis Rams - who won the Super Bowl one season after going 4-12. It's wishful thinking for Oakland, but it's not an unprecedented accomplishment in the unpredictable NFL. Just last season, the Carolina Panthers won the NFC title after a 7-9 record in 2002.

If the Raiders control the football with Norv Turner's running game/deep-passing offense, their revamped 3-4 defense has a chance to be fresh in the fourth quarter and make game-turning plays with a re-energized Warren Sapp and always-entertaining Phillip Buchanon.

On the contrary, if the Raiders get off to a slow start against a tough early schedule (they play the Bucs, Colts and Broncos in the season's first six weeks), the onus will be on the Oakland players to show they have the resolve to rebound instead of packing it in for the long haul like they did under the despised Callahan in 2003.

Stay tuned for further developments.
---
Photos captions/credits:


Zack Crockett rushes against Minnesota in 2003.
Photo by The Associated Press

Rich Gannon looks to pass during the 2002 season.
Photo by USA TODAY

Warren Sapp running his mouth.
Photo by Tampa Tribune
Updated: 9-5-2004
OAKLAND RAIDERS RAP
Archives | Court | Home | Links | Schedule | Tickets

---