<! --BEGIN LEFT SIDE NAVIGATION-->
Archives

2005 Season Review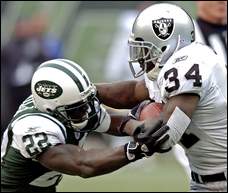 ---
Randy Moss becomes the forgotten man of the Raiders offense.

LaMont Jordan (photo, above) exceeds 1,000 rushing yards, but too frequently his production is limited because of a low number of rushing attempts.

Norv Turner, who built a reputation as an architect of potent offenses, canít devise plays to get Moss the football or put the Raiders in the end zone on a consistent basis.

These are the lasting images of the Raidersí 2005 season.

Not a pretty sight.

Three days after Oaklandís 4-12 season mercifully ends, Turner pays the price for consecutive losing seasons ó heís fired by team owner Al Davis.

With the addition of Moss (via trade) and Jordan (via free-agent signing), the Raiders expected to have one of the leagueís top offenses. What evolves instead over 16 games is an offense that never develops a rhythm.

The Raiders average 18.1 points, and they exceed 21 points in only three games. Oakland ranks 10th in pass offense (223.9 yards per game), 29th in rushing offense (85.6 yards) and 21st in total offense (309.4 yards).

With their offense struggling to score, the Raiders canít keep up with the opposition:

They finish their third straight losing season with six consecutive losses. They are winless in their division for the first time since 1962. In a late-season, four-game stretch, they are outscored 30-91.

At 4-12, the Raiders tie with four other teams for the third worst record in the NFL.

Here's a capsule review of Oakland's dismal 2005 season:

Biggest Surprises

Defensive end Derrick Burgess ó Leads the league with a franchise single-season record 16 sacks. The former Eagle had only 8.5 sacks in his previous four regular seasons.

S Stuart Schweigert ó Contributes two of the team's league-low five interceptions and 72 solo tackles. In only his second NFL season, Schweigert shows he has the potential to become the leader of Oakland's young secondary.

DB Renaldo Hill ó The former Cardinal emerges as the teamís starting strong safety, contributing 75 solo tackles and one interception.

Kick returner Chris Carr ó The undrafted free agent from Boise State ties for 14th in the league in kickoff returns (24.0 yards per return), but he struggles in punt returns (5.5 yards per return, 24th NFL).

Biggest Disappointments

Raiders offensive line ó The unit surrenders 45 sacks, fourth most in the AFC. Oakland averages 85.6 rushing yards (28th in the league), an increase of fewer than five yards per game from the 80.9 yards it averaged in 2004.

Kicker Sebastian Janikowski ó Finishes last in field goal accuracy with a career-low 66.7 percent (he makes 19 of 29 kicks).

Wide receiver Randy Moss ó The five-time Pro Bowler makes modest contributions in his first season with the Raiders. His 60 catches for 1,005 yards are well below his seven-year average (82 catches, 1,306 yards).

LaMont Jordan ó Doesn't have enough rushing attempts in some games to maximize his potential as an everydown back. The former Jets backup rushes for 1,025 yards (Oakland's first 1,000-yard rusher since 2000), but he has 20 or fewer carries in eight of the 14 games he plays in. The Raiders are 0-8 in those games.

Cornerback Charles Woodson ó Despite being paid a reported $10.537 million salary as the team's exclusive franchise player, the eight-year veteran has only one interception in six games before sustaining a broken right fibula against the Buffalo Bills on Oct. 23. The injury-prone Woodson earned approximately $1.75 million per game for the six games he played in.

Fast Facts

The Raiders are 0-6 against AFC West opposition for the first time since coach-turned-owner Al Davis joined the organization in 1963. The previous year, the Raiders went 0-6 against American Football League Western Division opposition en route to a 1-13 record.
---
The Raiders finish last in their division for the second straight season and for only the fourth time in franchise history. Oakland was last in the American Football League's Western Division in 1961-62.
---
The Raiders lead the NFL in penalties for the third straight season, even though they have no infractions in one game (Week 13 against San Diego). They have 147 penalties in 2005, an increase of 13 infractions from 2003. Oakland is second with 1132 penalty yards (Arizona is first with 1185 penalty yards).
---
The Raiders lead the league in penalties for the 12th time in club history. Only the Chicago Bears have a more dubious record ó leading the league 15 times in penalties.
---
Kerry Collins' 3,759 passing yards in the 2005 season ranks fifth in club history. Ken Stabler's 3,615 yards in 1979 previously ranked No. 5 on the franchise list. The top five single-season passing performances in Raiders history are: 4,689 yards by Rich Gannon in 2002; 3,917 by Jeff George in 1997; 3,840 by Gannon in 1999; 3,828 by Gannon in 2001, 3,759 by Kerry Collins in 2004;
---
Since 2002, the Raiders are 4-29 when scoring less than 21 points.

By The Numbers:

3: Raidersí consecutive losing seasons, equaling a franchise record (1960-1962).
5: Raiders interceptions. Itís the fewest interceptions by a team in a non-strike year in league history.
7: Raiders starters lost to season-ending injuries. The list includes cornerback Charles Woodson (broken right fibula, 10 games)), safety Derrick Gibson (dislocated left wrist, 10), guard Langston Walker (abdominal bleeding, 10), defensive tackle Warren Sapp (torn right rotator cuff, 6), center Jake Grove (right knee cartilage, 5), tight end Courtney Anderson (strained right knee, 2) and running back LaMont Jordan (right turf toe, 2).
9-23: Norv Turnerís record as Raiders coach, the worst two-year record in franchise history.
12: A league-high dropped passes by LaMont Jordan, according to STATS.
16: Sacks by Derrick Burgess, breaking Sean Jonesí club record of 15.5 sacks in 1986.
35: Raiders losses in 48 regular-season games since the team played in Super Bowl XXXVII at the end of the 2002 season.

Parting Shot

Donít blame disposed coach Norv Turner for the abysmal state of the Raiders. That honor goes to team owner Al Davis.

Yes, Turnerís play-calling was predictable. Yes, his players lacked focus (Oakland led the league in penalties each of the past two seasons). And yes, the Raiders were an underwhelming 1-11 against the AFC West on his watch.

Turner's 9-23 record as Raiders coach, the worst showing in franchise history, isn't solely his fault. When Turner (right) arrived after the 2003 season, the Raiders already were in free-fall. His primary flaw was he couldnít erase the mess he inherited.

With the exception of Jon Gruden, Davisí recent head-coaching hires (Mike White, Joe Bugel, Bill Callahan and Turner) were recycled coaches or, in Callahanís case, a coach who lacked the experience and resolve to succeed as an NFL head coach.

Davis (right) reportedly told/ordered Turner to bench erratic quarterback Kerry Collins and start backup Marques

Tuiasosopo in Week 14 against the Jets. After Tuiasosopo was dreadful during a 26-10 road loss to New York on Dec. 11, Turner informed reporters that he expected Tuiasosopo to start the next game. Hold that idea, because Collins returned as starter a few days later. This was vintage Davis, meddling with his coach and team.

It was a sad testament to a once-proud franchise gone sour.

Until Davis allows his head coach to formulate strategy, have significant input on shaping the 53-player roster and assemble his own coaching staff, the Raiders will remain in chaos. A team doesnít go 13-35 by accident, which is the Raiders' record the past three seasons. Davisí fingerprints are all over this corpse of silver and bleak.

The Last Words

"The expectations that everybody had for us coming into this year and the expectations we had for ourselves, we came nowhere close to meeting those expectations. Some people might disagree with me, but we did underachieve this year."

Raiders RB LaMont Jordan
"This is a sad moment right now. I know I'm tired of losing. I ain't won but nine games in two years here. It's hard, and I'm not happy."
Raiders DE Bobby Hamilton
---
Photos captions/credits:

Raiders RB LaMont Jordan (34) fights
for yards against Jets CB Justin Miller.
By The Associated Press

Norv Turner & Al Davis
By The Associated Press
---
Updated: 1-15-2006
OAKLAND RAIDERS RAP
Archives | Court | Home | Links | Schedule | Tickets