Hall Selects Madden


John Madden, who coached the Raiders to victory in Super Bowl XI, was elected to the Pro Football Hall of Fame on Feb. 4, 2006.

The popular coach-turned-broadcaster joins five players — quarterbacks Troy Aikman and Warren Moon, the late defensive tackle Reggie White, linebacker Harry Carson and offensive tackle Rayfield Wright — in the Class of 2006. The six-member class will be inducted in Canton, Ohio, on the weekend of Aug. 5-6.

Madden (right) had an overall record of 112-39-7 with the Raiders from 1969 to 1978. His winning percentage of .739 is second among coaches with 100 or more wins behind Vince Lombardi at .750. Madden had the best regular-season percentage at .759 (103-32-7). He was 9-7 in postseason games.
Madden, 69, has been eligible for the Hall for 27 years.
"Whoa. I'm, I'm in shock," Madden said at a news conference in Detroit after the Hall's Class of 2006 was announced.
"I'm not going to make a lot of sense, and I don't care. It comes from the heart. I am humbled and grateful and thankful. I'm just so appreciative. I've been waiting a long time and you never know ... Thank you, thank you, thank you."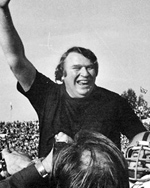 In the 1976 season, Madden (right) led the Raiders to a 16-1 record (13-1 regular season, 3-0 playoffs) en route to the franchise's first NFL title. Oakland defeated the Minnesota Vikings 32-14 in Super Bowl XI at the Rose Bowl in Pasadena, Calif. on Jan. 9, 1977. The 16 wins are the most by a Raiders team in a single season.
During Madden's 10 seasons as head coach, the Raiders never had a losing record and advanced to seven AFL/AFC title games. He also had a winning percentage against all 10 of the HOF coaches he faced.
"When I retired I had coached for 10 years, and that was kind of the way coaches did it in those days" Madden said on Feb. 4. "Vince Lombardi was my idol, and he coached 10 years, and that was my standard. It was a different era, a different time. The way it is today, I'd probably stay longer because everyone else does."
Madden and Wright were nominated by the Hall's Seniors Committee in August 2005. They joined 13 candidates from the modern era as finalists in January. Wright, who went to six straight Pro Bowls as a member of the Dallas Cowboys during the 1970s, waited 22 years to be elected.
According to HOF rules, election requires 80 percent of the voters ( a minimum of 32) from a 39-member selection committee. A minimum of three and a maximum of six candidates are elected each year.
Madden joins 15 other Raiders to be elected to the Hall. Madden and owner Al Davis are the only Raiders coaches to be enshrined.
"I had great players, and I thank every one of them," Madden said. "They made this possible. You talk about someone who appreciates this. Maybe it's waiting a long time."
For more information on the Class of 2006, please click Pro Football Hall of Fame
Updated: 2-5-2006
OAKLAND RAIDERS RAP
Archives | Court | Home | Links | Schedule | Tickets