Gannon Says Goodbye


Ending months of speculation, Rich Gannon announced his retirement after 18 seasons - the final six with the Raiders - as an NFL quarterback. Sitting alongside Raiders managing general partner Al Davis and coach Norv Turner, Gannon smiled and seemed relaxed as he spoke with reporters about the ups and downs of his football career.

"As far as the decision to retire, it was an easy one for me," he said at a news conference Aug. 6 at the team's Napa, Calif. training facility. "It was really not my decision. I'm not able to continue to play physically and that really takes all the guesswork out of it."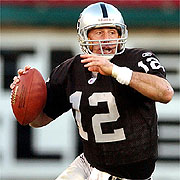 Gannon (right) was sidelined the final 13 games of last season after sustaining a broken vertebra in his neck in a helmet-to-helmet collision with Tampa Bay linebacker Derrick Brooks on Sept. 26, 2004. The 2002 NFL MVP finished the past two seasons on injured reserve (he had a torn labrum in 2003) after not missing a game his first four seasons in Oakland.
Gannon, who turns 40 in December was expected to retire ever since the end of the 2004 season. He reportedly consulted with leading spine specialists, who advised him not to resume his NFL career. At a Raiders minicamp in May, Turner told reporters that he didn't expect Gannon to play again. Then, on July 29, CBS Sports announced that Gannon had been hired as a game analyst for the 2005 season.
All that was left of his gritty playing career - journeyman backup to league MVP - was a formal goodbye.
"Let me say that today is an emotional day for the organization because it's a premature ending because of injury," said Davis, making a rare public appearance. "Think what you want, his age was not a factor by any means."

Gannon (right) led the Raiders to three straight AFC West titles (2000-2002) and capped his MVP season by quarterbacking the team to the 2003 Super Bowl - the franchise's first NFL title game appearance since 1983. The former University of Delaware star passed for 28,743 yards and 180 touchdowns during his career with Minnesota, Washington, Kansas City and Oakland. He also rushed for 2,449 yards and 21 touchdowns.
Gannon signed with the Raiders in 1999 after being a backup the previous three seasons in Kansas City. Gannon and then-coach Jon Gruden spearheaded a Raiders' resurgence. In Gannon's first four seasons in Oakland, the Raiders were 42-22 in the regular season, 4-3 in playoffs and advanced to the AFC title game twice.
"It wasn't until 1999 when I came here to Oakland, that I finally felt like I was home," Gannon said. "I felt like somebody believed in me enough to give me the keys to the car, to see what I could do with it. That was an exciting time in my life."
Davis said: "He gave us something we needed. And we needed it badly. He gave us a worker."
Gannon played in four straight Pro Bowls in 1999-2002. During that span, he was one of three quarterbacks (along with Brett Favre and Peyton Manning) who started every game. Gannon started 71 straight regular-season games, a Raiders record.
In his 2002 MVP season, Gannon threw for 4,689 yards (a Raiders record) and 26 touchdowns. The Philadelphia native is one of three Raiders - Kenny Stabler (1974) and Marcus Allen (1985) are the others - to win the league MVP award.

Unfortunately, Super Bowl XXXVII was the biggest and worst game of Gannon's pro career. He threw five interceptions (three returned for touchdowns) as the Gruden-coached Tampa Bay Buccaneers beat the Raiders 48-21 on Jan. 26, 2003 in San Diego. Gannon entered the game with only 11 interceptions in his previous 18 games. Go figure.
"Rich Gannon's will to win was an inspiration to everyone on the football team," Davis said. "Rich took this football team ... and inspired in them, along with the coach, the will to do great. He had three great years there that were unparalleled by a lot of teams in professional football and a lot of quarterebacks."
Gannon holds NFL records for most completions in a season (418), consecutive completions (21) in a game and most 300-yard passing games in a season (10). He holds Raiders career records for completions (1,533), completion percentage (61.5) and 300-yard passing games (19).
Updated: 8-7-2005
OAKLAND RAIDERS RAP
Archives | Court | Home | Links | Schedule | Tickets