2003 Season Preview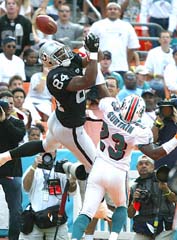 ---
Rich Gannon, Jerry Rice, Tim Brown and Rod Woodson are a year older. They were instrumental in the Raiders advancing to the Super Bowl last season. One year later, the team faces a daunting challenge because of age and history.

Three of the previous four Super Bowl losers - Rams, Giants and Falcons - had losing records the following season. Will Oakland add to the losing trend or continue to contend for the NFL's ultimate prize?

Good question.

To a man, the Raiders players and coaches desperately want to return to the Super Bowl this season. They crave a chance for redemption - to remove the agonizing memory of Jan. 26, 2003, when the Tampa Bay Buccaneers pummeled Oakland 48-21 in Super Bowl XXXVII at San Diego's Qualcomm Stadium.

Oakland returns 19 of 22 starters from a team that went 11-5 during the 2002 regular season and won its first AFC Championship since the 1983 season. Led by a high-powered offense that ranked first in total yards (389.8 per game) and passing yards (279.7) in 2002, the Raiders believe they have the fuel and resolve to complete their championship quest.

Here's a capsule analysis:
Burning Questions

Will Bill Callahan's petal-to-the-metal offense continue to pile up yards and points, or will opposing defenses follow Tampa Bay's Super Bowl blueprint on how to slow down the pass-happy Raiders? Oakland gained only 269 yards in their Super Bowl meltdown, 120 yards less than it averaged (389.8) during the regular season.

Will future Hall of Famer Tim Brown, right, be replaced by Jerry Porter as a starting wide receiver at some juncture during the season? Because the Raiders employ multiple receivers on passing downs, there should be ample opportunities for Brown and Porter - regardless of their roles. Still, Brown and Porter appeared to be headed in opposite directions after the 2002 season. Porter more than doubled his receptions (51) from 2001 and had a team-high nine touchdown catches. Brown had 81 receptions for 960 yards and a career-low two touchdowns. Brown, a 15-year veteran, failed to reach 1,000 receiving yards for the first time in 10 seasons. As last season progressed, Brown at times was almost a forgotten receiver behind fellow starter Jerry Rice (91 catches), running back Charlie Garner (91 catches) and Porter.

Will Charles Woodson reestablish himself among the game's elite cornerbacks after two injury-plagued seasons? When healthy, Woodson is a top cover defender and strong run-stopper. The problem is, he has been in-an-out of the lineup the past two seasons because of turf toe, a broken shoulder and broken leg. Entering the final year of his contract, the 1997 Heisman Trophy winner from Michigan is revved-up for an impact season.

Will Pro Bowl center Barret Robbins regain his starting position, not to mention the trust of his teammates? Robbins went AWOL the day before Super Bowl XXXVII and was suspended for the biggest game in franchise history in two decades. After reportedly being treated for bipolar disorder and alcohol abuse, he returned to the team and entered training camp not knowing if he would have a spot on the regular-season roster. Robbins will enter the regular season as the No. 3 center behind Matt Stinchcomb and Adam Treu.

Will ex-49er Dana Stubblefield be an adequate replacement for defensive tackle Sam Adams, who signed with the Buffalo Bills after helping Oakland advance to its first Super Bowl since 1984? Adams had two sacks and 21 total tackles last season, but his real value on defense was as a run stopper. The Raiders allowed only 90.8 yards rushing (3rd in the NFL) during the 2002 regular season, but the average ballooned to 136.0 yards in the postseason.
Players To Watch
QB Rich Gannon - His 2002 MVP season ended with a Super Bowl-record five interceptions. He also failed to produce a touchdown during the 2003 exhibition season.

FS Rod Woodson - At 37, he made All-Pro and tied for the league lead with eight interceptions last season. Imagine the chaos in the Raiders secondary if Woodson sustains a major injury and is sidelined for a long period of time.

Oakland offensive line - The unit must prove its abysmal showing in Super Bowl XXXVII was an aberration.

CB Phillip Buchanon - Before a broken left wrist ended his 2002 season in Oakland's sixth game, the trash-talking rookie from Miami had accounted for two touchdowns - an 83-yard punt return and an 81-yard interception return. After reportedly arriving at the Raiders' 2003 Napa (Calif.) training camp in a limousine and wearing a shiny black outfit with silver bunnies, he promptly suffered a hamstring injury and missed the majority of practice and all four exhibition games.

SS Derrick Gibson - The 2001 first-round draft pick entered training camp as Oakland's starting strong safety, the same role he couldn't regain after sustaining an arm injury late last season.
Area Of Concerns
The Raiders have no established defensive ends after the loss of Regan Upshaw (free agency) and Tony Bryant (injury). Trace Armstrong, entering his 16th NFL season, plays the position but is considered a situational pass rusher. Tyler Brayton, the second of Oakland's two 2003 first-round draft picks, had a strong preseason and will join incumbent DeLawrence Grant as the team's starting defensive ends.

Despite winning the AFC Championship and a third straight division title, the Raiders ranked 31st and 32nd (last) in punt and kick coverage last season. Oakland's kickoff coverage units struggled during the 2003 exhibition season.

After leading the NFL as a rookie in net punting average (38.0), the Raiders' Shane Lechler has averaged 35.6 net yards and 32.7 the past two seasons. Of course, Oakland's poor punt coverage units the last two seasons has impacted Lechler's net average.

Last season, the Raiders ranked second in penalty yards (1094) behind the Minnesota Vikings (1139). The league average was 863.9 penalty yards. Oakland was third with 129 penalties behind the Vikings (137) and Texans (136).

Entering the 2003 season, the Raiders have six players 37 or older: Jerry Rice is 40, Rod Woodson is 38 and Trace Armstrong, Rich Gannon, Tim Brown and Bill Romanowski are 37. The Raiders are the second-oldest team by average age in the NFL at 27.8 years. Only New England has an older average age, 27.9.
Did You Know?

The Raiders will try to become the first team to win four straight AFC West titles since John Madden's Raiders won five straight from 1972-76.

Oakland's Rich Gannon is only one of three quarterbacks to start every game each of the past four seasons. The others are the Packers' Brett Favre and the Colts' Peyton Manning.

For only the second time in franchise history, the Raiders will host two Monday night games in the 2003 season - Kansas City on Oct. 20 and Green Bay on Dec. 22. They also hosted two Monday night games in 1996, losing to Denver (22-21) and beating Kansas City (26-7).
The Bottom Line
If the Raiders had a sense of urgency last season, imagine the pressure on the veteran players and coaches in 2003. Oakland entered this past offseason needing to slash a reported $46 million from its salary cap. Many players over 30 reportedly accepted pay cuts because they believed the team had the potential to make another championship run this season. The players know what's at stake. Even if the Raiders win an NFL title this season, many proven and popular veterans won't return in 2004. It's the reality of the salary-cap driven NFL.
---
Photos captions/credits:


Oakland's Jerry Porter (84) tries to make a catch
against Miami's Patrick Surtan on Dec. 15, 2002.
By The Associated Press

Tim Brown makes a catch against the Jets on Dec. 2, 2002.
Photo by USA TODAY
Updated: 9-1-2003
OAKLAND RAIDERS RAP
Archives | Court | Home | Links | Schedule | Tickets

---