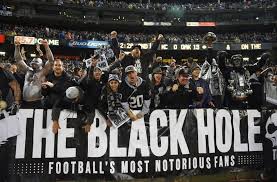 Welcome to Oakland Raiders Rap. Our mission is to provide news and information on the Oakland Raiders.
---

Reports: Raiders Agree To Deal With Coliseum
The Raiders agree to a one-year lease extension to remain at O.co Coliseum, More
Stabler Elected To The Hall of Fame
Raiders icon Ken Stabler is among six former players elected to the Pro Football Hall of Fame Class of 2016. More
Transactions
Safety Nate Allen re-signs with Oakland two days after being released by the team. More
2015 Season Review
Derek Carr and Khalil Mack are catalysts in the Raiders' quest to return to the postseason. More
Quick Hits
The Raiders will host the Houston Texans in a Monday night game on Nov. 21 at Azteca Stadium in Mexico City. More
Report: Raiders Denied Move To L.A.
The Raiders are the odd team out after NFL owners vote 30-2 to allow the St. Louis Rams to move to a new stadium near Los Angeles, and the San Diego Chargers will have an option to share the facility in Inglewood. More
Tickets
The Raiders rank 30th in 2015 NFL attendance. More
Updated: 2-12-2016
---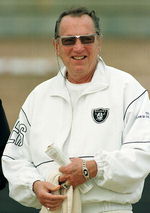 OAKLAND RAIDERS RAP
President & Editor - Joseph DeLoach
Systems Manager Emeritus - Joshua Maresca
Special Thanks - Kevin DeLoach, John Ayers, Garry Niver, Samuel Skinner
---
Photo captions/credits:


The Black Hole: Where Halloween comes 10 times a year.

Al Davis: The Man Who Would Be King
Photos by The Associated Press
---

Send comments, suggestions and questions to: jdeloach@raidersrap.com
No attachments, please
---
Public Service Announcement
Oakland Raiders Rap isn't affiliated or endorsed by the Oakland Raiders or National Football League. To our knowledge, images contained are public domain. If you are the owner and object to them being displayed, please contact us and we will remove them.
---
OAKLAND RAIDERS RAP
Dedicated to the memory of Bob Chandler and John Matuszak
Archives | Court | Home | Links | Schedule | Tickets

---