2005 Season Preview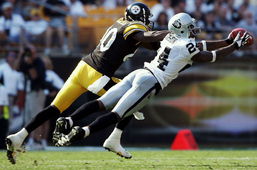 ---
For the Raiders to return to prominence this season, the onus falls on the defense to stay in the same area code as the offense.
Led by Pro Bowl receiver Randy Moss, Oakland's offense should deliver as advertised. The great unknown for the Raiders is their defense — which ranked 30th in yards allowed and passing yards allowed last season. Despite the need for impact defensive players, the Raiders made their biggest splash on offense during the 2005 offseason — trading for Moss and signing free-agent running back LaMont Jordan. Oakland's top signing on defense was former Eagles defensive end Derrick Burgess, who has a history of injuries.
If Moss and Jordan can make enough big plays, the Raiders will be entertaining and possibly contend for a playoff spot.
If the defense doesn't improve from the past two seasons, Oakland will remain among the dregs of the AFC.
Here's a capsule outlook:
Burning Questions

Will Randy Moss continue his assault on NFL career receiving records? Limited by a hamstring injury in 2004, the former Minnesota Viking didn't reach 1,000 receiving yards for the first time in his seven NFL seasons.

Still, he finished with 49 catches for 767 yards and 13 TDs (tied for fourth in the NFL). The five-time Pro Bowler ranks eight in league history with 90 receiving TDs and is tied for ninth with 41 100-yard receiving games. Moss (right) set an NFL rookie record with 17 touchdown receptions in 1998 and equaled that total in 2003. At his introductory news conference as a Raider in March, Moss said: "I'm ready to scream — that's how excited I am." With strong-armed Kerry Collins throwing to Moss, Jerry Porter and Ronald Curry (coming off Achilles' tendon surgery), the Raiders potentially have a lethal passing attack.

Will running back LaMont Jordan (34) elevate Oakland's woebegone rushing offense?

The Raiders signed the former New York Jet to a reported five-year, $27.5 million deal in March. Jordan has never started a game during his first four NFL seasons, all with the Jets. As a backup to Curtis Martin in 2004, Jordan rushed for 479 yards. Amos Zereoue led the Raiders with 425 rushing yards last season. Oakland ranked last in the league in rushing (80.9 yards per game) in 2004.

Will Oakland's defense improve on its abysmal 2004 performance? The Raiders allowed 442 points (second worst in franchise history) and ranked 30th in the NFL in total defense and pass defense en route to a 5-11 record. The Raiders signed former Philadelphia Eagles defensive end Derrick Burgess to upgrade their pass rush. Burgess, who missed the 2003 season after tearing his left Achilles' tendon, has only 8.5 sacks in 29 career regular-season games.

Will four-time Pro Bowl cornerback Charles Woodson leave the Raiders after the 2005 season?

Woodson, who has been hampered by injury since 2001, is scheduled to earn a base salary of of $10.537 million this season as the team's franchise player. If the Raiders put the "franchise" tag on Woodson (right) for a third straight year, his 2006 salary would jump to $12.64 million — a mandatory 20 percent increase from this season's contract. Woodson contributed an interception, 2.5 sacks and 58 solo tackles in 13 games last season. The 1997 Heisman Trophy winner from Michigan has six interceptions the past four years after having 10 picks during his first three seasons as a Raider.

Does mouthy defensive tackle Warren Sapp have enough juice left in his tank to rebound from a dismal first season with the Raiders? The six-time Pro Bowler contributed a career-low 2.5 sacks last season after recording 77.0 sacks the previous nine seasons with Tampa Bay. In fairness to Sapp, he was employed at an end position in 2004 when the Raiders were in a 3-4 defense after playing tackle with the Buccaneers. "Since the day I walked into this league, people have questioned me," Sapp told reporters in early August at the Raiders training camp. "But I get a chance to do something about it."
Players To Watch
WR Ronald Curry — With opposing defenses focusing on stopping Randy Moss and Jerry Porter, Curry could thrive against single coverage.
DE Derrick Burgess — The Raiders are paying the former Eagle a ton of money (a reported $17 million over five years) to bring heat on the opposing quarterback. Burgess has four sacks in six NFL career playoff games.
C Jake Grove — The former Virginia Tech All-America moves from right guard to center after a solid rookie season.
CB Fabian Washington — The former Nebraska star earned a high draft selection (23rd overall) because of blazing speed. Washington must show he isn't a defensive version of ex-Raiders wide receiver James Jett.
TE Courtney Anderson — The former seventh-round draft pick earned a starting role in 2004 before being sidelined because of a hamstring injury. Four of his 13 receptions went for 20 yards or more, so he has ability to step up as a go-to receiver.
Did You Know?
Since their 48-21 loss to Tampa Bay in Super Bowl XXXVII, the Raiders have gone 9-23 — the worst two-year record for the team since Al Davis arrived in 1963 to coach and eventually become own the franchise.
---
In 2004, the Raiders ranked last in the league in rushing (80.9 yards per game) and produced fewer yards (1295) than any Raiders team in 43 years.
---
In his 10-year NFL career, Kerry Collins has thrown more interceptions (154) than touchdown passes (153) and completed only 55.9 percent of his passes. Collins, entering his second season with the Raiders, has a 62-68 career record as a starter.
---
For the second straight season, Oakland isn't scheduled for Monday Night Football. The Raiders play a Thursday night prime-time game (at New England on Sept. 8 in the NFL season opener) and two Sunday night contests (Kansas City on Sept. 18 & at San Diego on Dec. 4).
---
The Raiders are coming off consecutive seasons with a league-high 134 penalties. They've led the NFL in penalties 13 times. Only the Chicago Bears have a more dubious record — leading the league in penalties a whopping 16 times.

History Lesson

The Raiders are trying to avoid back-to-back last-place finishes for only the second time. In 2004, they were last in their division for the third time in franchise history. The Raiders were last in the American Football League's Western Division in 1961-62.

Bottom Line

If the Raiders improve in three key statistical areas — rushing offense, time of possession and turnover ratio — they have a chance for their first winning season since 2002. Oakland ranked last in the league or near the bottom in all three areas last season.

An effective running game will help Oakland improve its time of possession (the Raiders held the football for an average of 26:47 in 2004), thus reducing the time its suspect defense spends on the field. If the Raiders rely solely on the pass like they did last season, defenses will gang up on receivers Randy Moss and Jerry Porter and quarterback Kerry Collins will be susceptible to interceptions, not to mention injury from pass-rush happy defenders.

Oakland was a minus 17 in turnover ratio (35 giveaways, 18 takeaways), tying for 30th in the league in 2004. When the Raiders advanced to Super Bowl XXXVII in 2003, they were plus 12 in turnover ratio — with a whopping 21 interceptions. Oakland has forced only 23 interceptions (14 in 2003 & 9 in 2004) the past two seasons.
---
Photos captions/credits:


Charles Woodson breaks up a pass
against the Steelers in the 2004 opener.
Photo by The Associated Press

Randy Moss points his way to the
end zone as a Minnesota Viking in 2001.
Photo by The Associated Press

LaMont Jordan fights for yards against the 49ers.
Photo by The Associated Press

Charles Woodson returns an interception
against Tampa Bay in Super Bowl XXXVII.
Photo by The Associated Press
Updated: 8-19-2005
OAKLAND RAIDERS RAP
Archives | Court | Home | Links | Schedule | Tickets