<! --BEGIN LEFT SIDE NAVIGATION-->

Archives

<!BEGIN MAIN BODY -->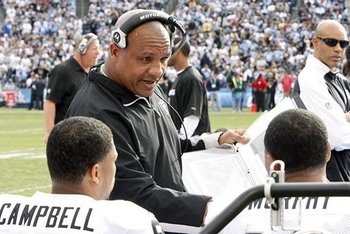 2011 Season Preview
Gone are cornerback Nnamdi Asmougha, tight end Zach Miller and left guard Robert Gallery — prominent Raiders players who signed elsewhere after the 2010 season.
Enter Hue Jackson, the sixth Raiders' head coach since 2003. He has worked as a college and NFL assistant since 1987. The Los Angeles native has no previous head coaching experience.
Jackson, top photo, inherits a team that has a 37-91 win-loss record the past eight seasons, the second worst mark in the league over that span.
Elevated to head coach after Tom Cable wasn't retained in January following an 8-8 2010 season, Jackson tries to get the Raiders back to the playoffs for the first time since 2002.
Here's a capsule outlook for the 2011 season:
Burning Questions

Will Hue Jackson lead the Raiders to their first winning season and playoff berth since 2002 as an NFL rookie head coach? As the team's offensive coordinator in 2010, Jackson helped orchestrate a Raiders resurgence offensively. Oakland scored 410 points last season, more than doubling its 197 points in 2009.

Will Jason Campbell be a productive quarterback for Oakland?

Campbell, right, finished strong in an up-and-down 2010 season, his first with the Raiders. The former Auburn star threw for 2,387 yards and 13 touchdowns, completed 59 percent of his passes and had an 8-5 record in games he started, the most wins by a Raiders quarterback since 2002.

Will the Raiders improve their 29th-ranked run defense in 2010? In its eight losses last season, Oakland allowed an average of 188.0 rushing yards. In their eight wins, the Raiders allowed an average of 79.3 rushing yards. The Raiders have ranked no higher than 29th against the run the past four seasons.

Will Oakland's offensive line be a cohesive unit despite the departure of starting left guard Robert Gallery, who signed with the Seattle Seahawks? Stefen Wisniewski, the team's top selection in the 2011 NFL draft, is expected to start at Gallery's former position.

Players To Watch


RB Darren McFadden — Established himself among the NFL's premier backs in the 2010 season with 1,157 rushing yards (fifth highest in team history) and 1,664 combined yards (fifth highest in the league). He missed a portion of 2011 training camp because of a fractured orbital bone after enduring injury-plagued seasons in 2008 & 2009.

WR Jacoby Ford — Set a single-season franchise record with three kickoff returns for touchdowns as a rookie during the 2010 season. The former Clemson star also scored two touchdowns receiving and two rushing on reverses.

TE Kevin Boss — The former New York Giants starter replaces fan-favorite Zach Miller, who signed with the Seattle Seahawks after leading Oakland in receptions each of the past three seasons. In his last two seasons with the Giants, Boss contributed 77 catches for 1098 yards and 10 touchdowns. His availability for the start of the regular season is uncertain after he sustained a knee injury in a Week 2 exhibition game against the 49ers.

OLB Kamerion Wimbley — The Raiders rewarded Wimbley with a reported five-year, $48 million contract after a bounce-back 2010 season, when he had a team-high nine sacks while starting all 16 games.

WR Derek Hagan — Had a strong showing in training camp and during the exhibition season. Hagan took advantage of unexpected playing time because of injuries to Jacoby Ford, Louis Murphy and Chaz Schilens.

Feeling The Heat

Coach Hue Jackson — Raiders managing general partner Al Davis has sent five head coaches packing since 2003. Al Saunders, Jackson's offensive coordinator, is a former San Diego Chargers head coach and reportedly has interviewed with Davis for the head coaching position with the Raiders.

WR Darrius Heyward-Bay — Has 35 receptions for 490 yards and two touchdowns during his first two NFL seasons. His production improved in 2010 compared to his rookie season but the former Maryland star has yet to prove he's a starting-caliber receiver.

CB Chris Johnson — Enters the 2011 regular season as a starter after Pro Bowler Nnamdi Asmougha signed with the Philadelphia Eagles. Johnson has eight career interceptions in 69 games with Oakland and St. Louis.

The Schedule

The Raiders' 2011 regular-season schedule is highlighted by two prime-time games — the season opener at Denver on Monday, Sept. 12 at 7:15 p.m. on ESPN and at San Diego on Thursday, Nov. 10 at 5:20 p.m. on the NFL Network. Oakland was excluded from the NFL's prime-time schedule in 2010.

After opening the season with two road games, the Raiders play five of the next six games at home — including back-to back contests against Super Bowl contenders New York Jets (Sept. 25) and New England Patriots (Oct. 2) at O.co Coliseum. During the second half of the season, Oakland has a grueling stretch of four road games in five weeks.

Oakland's 2011 opponents — counting division foes only once — had a .495 win-loss percentage (103-105 record). The win-loss percentage of the Raiders' 2010 opponents based on 2009 results also was .495 (103-105). The Raiders play five 2010 playoff teams — Chicago Bears, Super Bowl champion Green Bay Packers, Kansas City Chiefs, New York Jets and New England Patriots.

They Said It

"I expect to win here. I want our players to expect to win and I want our fans to have an expectation that this organization is making a comeback to where it rightfully belongs. And 8-8 doesn't cut it for me. I'm not interested in being 8-8. I'm interested in being great."

Raiders coach Hue Jackson

Raiders Fast Facts

Owner: Al Davis.

Head Coach: Hue Jackson, 1st season.

2010 Record: 8-8, third AFC West.

Key Additions: Tight end Kevin Boss, C/G Stefen Wisniewski.

Key Departures: CB Nnamdi Asmougha, TE Zach Miller, G Robert Gallery.

2010 Season Opener: At Denver Broncos, Sept. 12, 7:15 p.m. Pacific.

Photo caption/credit:

Hue Jackson, center, on the
Raiders sideline during a 2010 game.

Jason Campbell and Darren McFadden headshots

By NFL.com

Updated: 08-25-2011

OAKLAND RAIDERS RAP

Archives | Court | Home | Links | Schedule | Tickets