<! --BEGIN LEFT SIDE NAVIGATION-->

Archives

<!BEGIN MAIN BODY -->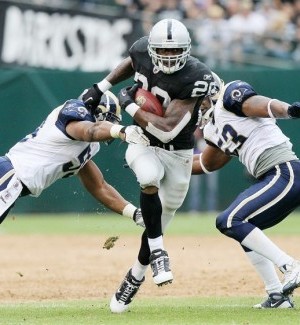 2012 Season Preview
Equipped with a new hierarchy, the Raiders embark on a journey in uncharted territory.
For the first time in almost four decades, iconic owner Al Davis is not the face of the franchise. Davis, who joined the Raiders in 1963 as coach/general manager, passed away at 82 last October.
Following the Raiders' 8-8 finish in the 2011 season, Mark Davis, Al Davis' son and new team owner, hired Reggie McKenzie as Oakland general manager.
McKenzie, who spent the previous 18 seasons as a scout and executive with the Green Bay Packers, fired then head coach Hue Jackson and hired Denver Broncos defensive coordinator Dennis Allen as Jackson's replacement.
Allen, who will turn 40 on Sept. 22, enters the 2012 season as the youngest head coach in the NFL. He is the Raiders' third head coach the past three seasons and seventh since 2003. He inherits an underachieving team that has not had a winning record since 2002.
In his first few months as the Raiders' first GM since 1962, McKenzie did not re-sign high-salaried players running back Michael Bush, cornerback Stanford Routt and linebacker Kamerion Wimbley.
Among the new faces on the Oakland roster, McKenzie signed guard Mike Brisiel and defensive end Dave Tollefson, established veterans with a strong lockerroom presence.
Ever since he became the Raiders' 18th head coach, Allen has stressed accountability, discipline and hard work. If the new coach's words are put into motion by his players, the Raiders will have started the process of building a winning team.
Here's a capsule outlook of the Raiders' 2012 season:
Burning Questions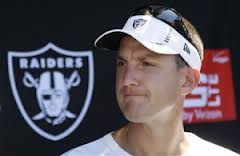 Will first-year head coach Dennis Allen, right, improve the Raiders' woeful defense and kick the team's longtime habit of excessive penalties? Allen is the first Raiders' head coach with a defensive background since John Madden in 1969. In the 2011 season, Oakland had franchise worsts in touchdown passes allowed (31), yards per carry (5.1), yards passing (4,262) and total yards (6,201), while giving up the third-most points (433) in team history. Oakland has led the league in penalties 17 times, one more than the Chicago Bears for the most in NFL history.

Will brittle yet dynamic running back Darren McFadden, top photo, make it through the 2012 season without missing significant playing time because of injury? The former Arkansas star has missed 19 games in his first four NFL seasons with foot, toe, shoulder, knee and hamstring injuries. McFadden missed the final nine games of the 2011 season with a Lisfranc sprain. At the time of his most recent injury, he was on pace to rush for 1,800 yards. McFadden exceeded 100 rushing yards eight times during a 15-game span in 2010 and 2011.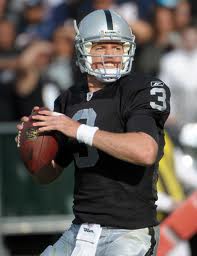 Will quarterback Carson Palmer succeed in a new offensive scheme? During offseason practices, Allen and offensive coordinator Greg Knapp implemented bootlegs and rollouts at the Raiders' quarterback position. Palmer, a drop-back, bombs-away passer throughout his career, has plenty of motivation to improve on his 13 touchdown passes and 16 interceptions in 10 games last season. The 2011 season was an aberration for Palmer, who had to learn Oakland's offense on the fly after a long holdout with Cincinnati. He finished his first season with Oakland with a 60.7 completion percentage (199 of 328) and 2,753 passing yards — proof that he still is a legitimate NFL starting quarterback. On the flip side, if the Raiders offense struggles early in the 2012 season Palmer will face a cauldron of criticism. He had a 38.2 passer rating and no TD passes with two interceptions in limited action during Oakland's four-game 2012 preseason.

Players To Watch

WR Darrius-Heyward Bay — Had career bests of 64 catches and 975 receiving yards in a breakout 2011 season. Those numbers could improve with Heyward-Bay catching passes from Carson Palmer for a full season.


OLB Philip Wheeler — The former Indianapolis Colt replaces Kamerion Wimbley, who signed with the Tennessee Titans after the 2011 season. Wheeler has only two sacks in four NFL seasons while Wimbley contributed 16 sacks in two seasons with Oakland. On the flip side, Wheeler's strengths are as a run stopper and pass defender, both areas of weakness for Raiders linebackers in recent seasons.

DE Matt Shaughnessy — Was emerging as a fierce pass rusher and adept run stopper when he sustained a season-ending shoulder injury in Week 3 last season. The former Wisconsin star had 11 sacks in his first two seasons (2009 & 2010) with the Raiders.

OT Jared Veldheer — Has started 27 of the past 32 games with Oakland. Veldheer is considered the team's top offensive lineman and is on the cusp of attaining Pro Bowl status. In only his second NFL season in 2011, he reduced his sacks allowed from 7.5 the previous season to four and penalties from 15 to 10.

SS Tyvon Branch — Has started every game the past three seasons and led the team in tackles the last two seasons. His 327 total tackles the past three seasons are seccond most in the NFL behind the Colts' Antoine Bethea, who has 340. Branch's completion percentage against was 55.7 percent in 2011, compared to 67.4 the previous season, according to Stats LLC.

TE Brandon Myers — Could be a productive receiver with Oakland returning to a West Coast offense under offensive coordinator Greg Knapp. In the 2011 season, the Oakland tight end position was seldom an option in then coach Hue Jackson's offense.

WR Rod Streater — The undrafted free agent from Temple had a team-high 18 receptions during Oakland's preseason. Streater could log continued playing time if Denarius Moore and Jacoby Ford are limited because of injury.

OLB Miles Burris — The fourth-round draft pick from San Diego State took over at weak side linebacker when 2011 starter Aaron Curry arrived at training camp with sore knees. Curry will miss at least the first five games on the Physically Unable To Perfrom list.

Feeling The Heat

MLB Rolando McClain — The former Alabama star has arguably been a bust in his two NFL seasons since he was the No. 8 overall selection by the Raiders in the 2010 draft. He has only 5.5 sacks and one interception in 30 career games with Oakland.


WR/KR Jacoby Ford — Had only two touchdowns in eight games in an injury-hampered 2011 season compared to seven TDs in 16 games as a rookie the previous season. Like Darren McFadden, Ford needs to avoid major injury to stay on the field and showcase his explosive skills. The former Clemson star is expected to miss the season opener after he sustained an injury to his left foot in Oakland's preseason loss at Arizona on Aug. 17. The injury reportedly was to Ford's left foot, the same foot he injured last season when he missed six of the final seven games.

Raiders cornerbacks — All five cornerbacks on the Oakland roster are new to the team. The Raiders released 2011 starters Stanford Routt and Chris Johnson before the start of free agency, let Lito Sheppard leave as a free agent, and released both cornerbacks taken in the 2011 draft, thrid-rounder DeMarcus Van Dyke and fourth-rounder Chimdi Chekwa. The team reportedly is transitioning from the bump-and-run style preferred by late owner Al Davis to Allen's new defense that will have more zone coverage.

Free-agent acquisitions Ron Bartell (St. Louis Rams) and Shawntae Spencer (San Francisco 49ers) are projected as the starters while Joselio Hanson (Philadelphia Eagles) is expected to see action in nickel packages. Backups Pat Lee and Phillip Adams will also have roles on special teams.

WR Denarius Moore — Missed the majority of training camp and did not see action in the Raiders' four-game preseason because of a hamstring injury. Projected as a 2012 starter after contributing 33 catches for 618 yards and five receiving TDs as a rookie the previous season. His 18.7 yards per catch in 2011 ranked fourth highest in the league.

G Cooper Carlisle — 13-year veteran who has 117 career starts with Denver and Oakland could be challenged for playing time at left guard by promising rookie Tony Bergstrom, the Raiders' top 2012 draft choice from Utah.

The Schedule

The Raiders' 2012 regular-season schedule features two prime-time home games — Monday night, Sept. 10, against San Diego at 7:15 p.m. on ESPN and Thursday night, Dec. 6, against Denver at 5:20 p.m. on NFL Network. Oakland will make its fourth appearance the past five seasons in the second game of the league's season-opening Monday night doubleheader. The Raiders are 1-3 in their previous four Week 1 Monday night games.

The Raiders play six 2011 playoff teams — Atlanta Falcons, Baltimore Ravens, Cincinnati Bengals, Denver Broncos, New Orleans Saints and Pittsburgh Steelers. Oakland is tied with the Miami Dolphins for 18th in 2012 NFL Strength of Schedule. The Raiders' opponents went 127-129 in the 2011 season.

For the first time in franchise history, the Raiders play five road games in the Eastern Time Zone — Miami, Atlanta, Baltimore, Cincinnati and Carolina.

Did You Know?

The Raiders are 16-16 their past 32 games after going 29-83 from 2003 to 2009. Oakland has not had a winning season since a 12-4 record in 2002.
---
Oakland's 99 losses over the past nine seasons are the second most in the NFL and its current nine-year playoff drought is tied with the Cleveland Browns for the second longest in the league.
---
Since 2003, the Raiders reportedly have the worst run defense in the NFL, allowing 175 touchdowns on the ground and 141.7 yards rushing per game.
---
The Raiders have won seven straight road games against AFC West opposition the past two plus seasons. Their last division road loss was a 24-16 defeat to San Diego on Nov. 1, 2009.
---
Dennis Allen joins Mike White (1995), Jon Gruden (1998), Bill Callahan (2003), Lane Kiffin (2007), Tom Cable (2008) and Hue Jackson (2011) as first-year Raiders coaches with no previous NFL head-coaching experience since the team returned to Oakland in 1995. Only Gruden lasted four seasons among the Raiders' previous nine head coaches.

They Said It

"If you're passionate about the message you believe in, I firmly believe you can get people to follow you. Our message to these players is that we're going to look for tough, smart, hard-working committed players that want to be the best. We're not going to settle for anything less than that."

Raiders coach Dennis Allen

Raiders Fast Facts

Owner: Mark Davis.

Head Coach: Dennis Allen, 1st season.

2011 Record: 8-8, third AFC West.

Key Additions: G Mike Brisiel, OLB Philip Wheeler, QB Matt Leinart, RB Mike Goodson, FB Owen Schmitt, CBs Shawntae Spencer, Ron Bartell & Pat Lee.

Key draft picks: OT/G Tony Bergstrom, DE/OLB Miles Burris, DE Jack Crawford, WR Juron Criner.

Key Departures: RB Michael Bush, QB Jason Campbell, TE Kevin Boss, C Sampson Satele, CB Stanford Routt, OLB Kamerion Wimbley, DT John Henderson, DEs Jarvis Moss & Quentin Groves, ILB Darryl Blackstock.

Final roster: The Raiders have 23 players on their 53-man roster who were not with the organization last season, including the six new cornerbacks, five new offensive linemen and four new linebackers.

2012 Season Opener: San Diego Chargers, Sept. 10, 7:15 p.m. (Pacific), ESPN.

Photo caption/credit:

Darren McFadden (20) eluding defenders

By Associated Press

Dennis Allen and Carson Palmer photos

From Google.com

Jacoby Ford & Philip Wheeler headshots

From NFL.com

Updated: 09-06-2012

OAKLAND RAIDERS RAP

Archives | Court | Home | Links | Schedule | Tickets