<! --BEGIN LEFT SIDE NAVIGATION-->

Archives

<!BEGIN MAIN BODY -->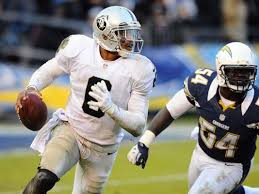 2013 Season Preview
The Raiders will have a new starting quarterback for a third straight season.
The makeover defense has nine new starters.
There is a new offensive coordinator (Greg Olson), new offensive line coach (Tony Sparano) and new special teams coordinator (Bobby April).
Jettisoned from the 2012 roster are former starters quarterback Carson Palmer, wide receiver Darrius Heyward-Bey, defensive tackles Richard Seymour and Tommy Kelly and defensive back Michael Huff. Longtime Raiders punter Shane Lechler (Texans) and linebacker Philip Wheeler (Dolphins) signed lucrative free-agent contracts with other teams.
Coming off a 4-12 season, second-year head coach Dennis Allen and second-year general manager Reggie McKenzie have re-tooled a Raiders roster that appears to be lacking Pro Bowl-caliber talent at many positions.
With a corps of young players such as strong safety Tyvon Branch, center Stefen Wisniewski, wide receiver Rod Streater and defensive end Lamarr Houston, the Raiders are hoping to lay the building blocks for better seasons ahead.
Here's a capsule outlook of the Raiders' 2013 season:
Burning Questions

Who will be the Raiders' starting quarterback? Oakland traded 2012 starter Carson Palmer after acquiring Matt Flynn in an April trade with the Seattle Seahawks. Flynn entered training camp as the projected starter but Terrelle Pryor outplayed Flynn during the preseason. In the exhibition season, the Oakland offense produced 32 points on 14 drives with Pryor at quarterback, compared to 10 points on 13 drives for Flynn.

Flynn started the first three preseason games and played mostly with and against starters, while Pryor was in mostly with second-team players. Pryor was only 3 of 8 passing for 31 yards in his only start, against Seattle on Aug. 29.

In three exhibition games, Flynn was 19 of 27 passing (70.4 percent) for 180 yards and a touchdown with an interception. His passer rating was 70.0. In four games, Pryor was 17 of 32 passing (47.8 percent) for 221 yards with a touchdown and an interception. His passer rating was 59.5.

With 4.4 speed, Pryor's versatility as a runner gives the Raiders an added dimension at the quarterback position. In the preseason, Pryor was sacked four times and had 131 rushing yards (second best on the team) on 14 carries while Flynn was sacked a team-high seven times and contributed 19 rushing yards on four carries.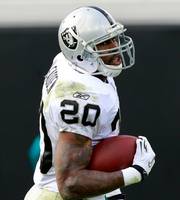 Will running back Darren McFadden, right, avoid injury and regain his explosive form from the 2010 season? McFadden has missed 23 games because of injury during his five NFL seasons. In 2012, he missed four games because of a sprained ankle. And even when he played, the former University of Arkansas star was inconsistent — finishing with 707 rushing yards (28th in the league) in 12 games. He averaged a career-low 3.3 yards per rush after averaging over 5.0 yards per carry the previous two seasons.

Will new offensive coordinator Greg Olson help improve Oakland's ineffective offense from last season? In 2012, the Raiders finished 26th in scoring (18.1 points) and 28th (88.8 yards per game) in rushing offense. Olsen and new offensive line coach Tony Sparano reportedly have implemented a power and gap blocking scheme in the running game that was successul under Hue Jackson in 2010 and 2011. Running back Darren McFadden never meshed with the zone blocking scheme last season of then offensive coordinator Greg Knapp.

Will Oakland's defense be improved with nine new defensive starters? Strong safety Tyvon Branch and defensive end LaMarr Houston are the only returning starters from a Raiders defense that ranked 18th in total yards (354.5 yards), tied for 18th in rushing yards (118.6 yards), 20th in passing yards (235.9) and 28th in scoring (27.7 points) in the 2012 season. The Raiders' most glaring defensive deficiency last season was an almost nonexistent pass rush. Oakland's 25 sacks ranked 31st in the NFL and equaled a franchise record set in 1961.

Do the Raiders have an adequate replacement for injured left tackle Jared Veldheer? Veldheer, considered Oakland's best offensive lineman, sustained a partially torn triceps during training camp and reportedly will miss at least half the season. After a strong showing in Oakland's exhibition finale on Aug. 29, second-round draft choice Menelik Watson reportedly will start at left tackle in the regular-season opener against Indianapolis on Sept. 8. Watson, a native of Manchester, England, is a former basketball player and boxer who first played organized football at Saddleback College two years ago. He played one season at Florida State before being selected by Oakland 42nd ovberall in the 2013 draft.

Players To Watch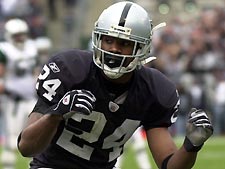 S Charles Woodson — At age 36, what can be expected of the former Green Bay Packer? Woodson, right, had only one interception in seven games with the Packers in 2012. His ballhawking, tackling ability, instincts and leadership qualities will be an upgrade for a young Raiders secondary. Woodson, the 1997 Hesiman Trophy winner from Michigan, has 55 career interceptions and 11 fumble recoveries in 206 NFL career games.

WR Denarius Moore — Had a 51-catch 2012 regular season with seven TD receptions after not playing in Oakland's exhibition season because of a hamstring injury. He has combined for 12 touchdown catches in his first two NFL seasons.

WR Rod Streater — Finished the 2012 season with 39 receptions, passing Hall of Famer Marcus Allen (1982) for the fourth-most catches by a Raiders rookie. Streater, signed by Oakland as a non-drafted free agent in May of 2012, had only 19 catches during his senior year at Temple in 2011.

FB Marcel Reece — Finished second on the team with 52 receptions for 496 yards and a touchdown in 2012. He led all NFL running backs with 9.5 yards per catch. Because of his speed, the former University of Washington wide receiver is a load for opposing linebackers and safeties to cover coming out of the backfield.

OLB Sio Moore — The third-round draft choice from Connecticut earned a starting position during training camp. Not even being assigned ex-Raider Rolando McClain's No. 55 jersey has slowed down the precocious Moore.

RB Rashad Jennings — If Darren McFadden is sidelined by injury, Jennings could see extended action. He has 994 rushing yards and seven touchdowns and 61 catches for 454 yards in four seasons with the Jacksonville Jaguars.

Feeling The Heat

Head Coach Dennis Allen — There are no long-range rebuilding plans in the win-or- else mentality of the NFL. The Raiders need to show improvement on both sides of the ball and win more games than last season's total of four for Allen to return for a third season in Oakland.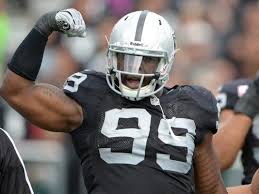 DE Lamarr Houston — Must generate a more consistent pass rush than the 2012 season when he had a team-leading 4.5 sacks. In three seasons as a Raider, the former University of Texas star has 10.5 sacks in 48 games. With veteran defensive tackles Richard Seymour and Tommy Kelly no longer on the roster, Houston emerges as the leader of Oakland's defensive line.

WR/KR Jacoby Ford — Has been injury prone the past two seasons after a breakout rookie year in 2010 when he contributed seven touchdowns. The former Clemson star had only one TD in 2011 before missing all of the 2012 season. True to form, Ford sustained an injury on the third day of 2013 training camp.

Right guard Mike Brisiel — Poised for a bounce-back season after struggling in the first year of a $20 million, fiver-year contract. He reportedly underwent major ankle surgery during the offseason to correct a problem that hindered his play during the 2012 season.

The Schedule

The Raiders have only one prime-time game — against the host Denver Broncos — on Monday, Sept. 23 at 5:40 p.m. (Pacific) on ESPN.

Oakland plays Thanksgiving Day against the host Dallas Cowboys on Thursday, Nov. 28 at 1:30 p.m. on CBS, the teams' second Turkey Day match-up in four years. The Cowboys beat the visiting Raiders 24-7 on Thanksgiving on Nov. 26, 2009.

The Raiders face only four 2012 playoff teams — Denver (twice), Houston, Indianapolis and Washington.

Oakland ranks 29th in 2013 NFL Strength of Schedule. Raiders opponents in the 2012 season had a 120-136 record for a .469 winning percentage.

Oakland plays three home games in the season's first five weeks but has four road games from Week 10 to Week 14. The Raiders close the season with three division games, two of them at home against the Chiefs and Broncos.

The Raiders' three trips to the Eastern Time Zone are against Indianapolis in Week 1, against the Giants in Week 10 and against the Jets in Week 14. Oakland dropped all five of its games in the ETZ in 2012. In those games, the Raiders were outscored by a whopping 164-69.

Did You Know?


The Raiders have a dubious streak of 10 consecutive non-winning seasons. Oakland has not had a winning record since the 2002 season when it went 12-4 en route to a berth in Super Bowl XXXVII.
---
Kicker Sebastian Janikowski and 2009 defensive player of the year Charles Woodson are the only remaining links to the Raiders last playoff appearance in 2002. Woodson returned to Oakland as a free agent after spending the last five seasons in Green Bay.
---
In the 2012 season five opposing backs rushed for 100 or more yards against an Oakland defense that ranked tied for 18th against the run (118.6) and 20th in yards per carry (4.3). It was the Raiders' best finish against the run since 2002 when it ranked third.
---
In the 2011 season the Raiders set an NFL record with 163 penalties. In 2012, Oakland's 108 penalties are the fewest for the franchise since it had 107 infractions in 2001, the final season under coach Jon Gruden.
---
Running back Darren McFadden exceeded 100 rushing yards eight times during a 15-game span in 2010 and 2011 but he has reached the 100-yard plateau only three times the past 16 games.
---
Raiders kicker Sebastian Janikowski has made 54 consecutive field goals from 40 yards or less. The Polish Cannon last missed an attempt from under 41 yards when he was unsuccessful on a 32-yard attempt against Arizona on Sept. 26, 2010.

They Said It

"Nobody's going to give us a shot this year to do anything. But for us, if we come out and practice in a way that's going to help us go out there and win games it won't really matter what anybody else says. It'll be about what we do out here on the field."

Raiders S Charles Woodson

Raiders Fast Facts

Owner: Mark Davis.

General Manager: Reggie McKenzie

Head Coach: Dennis Allen, 2nd season.

2012 Record: 4-12, third AFC West

Key Additions: QB Matt Flynn, DB Charles Woodson, CB Tracy Porter, CB Mike Jenkins, LB Nick Roach, LB Kaluka Maiava, LB Kevin Burnett, DT Pat Sims, DT Vance Walker.

Key draft picks: CB D.J. Hayden, OT Menelik Watson, OLB Sio Moore

Key Departures: QB Carson Palmer, TE Brandon Myers, DT Richard Seymour, DT Tommy Kelly, DT Desmond Bryant, LB Philip Wheeler, DB Michael Huff, P Shane Lechler

2013 Season Opener: At Indianapolis Colts, Sept. 8, 10 a.m. (Pacific), CBS

Photo caption/credit:

Terrelle Pryor (6), Darren McFadden (20),
Charles Woodson (24) & Lamarr Houston (99)




From Google.com

Updated: 09-03-2013

OAKLAND RAIDERS RAP

Archives | Court | Home | Links | Schedule | Tickets