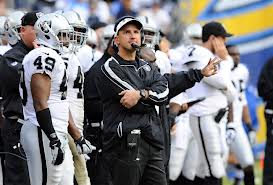 2013 Season Review
Biggest Disappointments


With a second straight 4-12 record, Oakland extends its dubious streak of 11 consecutive seasons without a playoff berth or a winning record. Since the start of the 2003 season, the Raiders have an NFL-high 123 losses.

The Raiders continue their search for a legitimate starting quarterback. Terrelle Pryor is 3-6 as a starter, Matt McGloin 1-5 and Matt Flynn 0-1 in his only start with Pryor injured. Flynn, who enters training camp as the No. 1 quarterback after being acquired for two draft picks, is released five games into the season. Oakland quarterbacks combine for 16 touchdown passes with 20 interceptions.

In the final year of his contract, running back Darren McFadden missses six games because of injury and has only 379 rushing yards and five touchdowns on 114 carries. He averages 3.3 yards per carry for the second straight season.

The Raiders squander fourth-quarter leads in losses to Indianapolis, New York Giants and Tennessee Titans. Oakland also can't hold two-touchdown leads in losses to Washington and Dallas.
Top Accomplishments


Led by running back Rashad Jennings, the Raiders have a productive rushing offense, finishing the season ranked 12th in the NFL and fifth AFC at 125.0 yards per game. Jennings has a team-high and career-best 733 rushing yards in 163 attempts and six TDs. Terrelle Pryor is second on the Raiders with 576 yards in 83 attempts. Pryor has the second most rushing yards among NFL quarterbacks, trailing only Carolina's Cam Newton (585 yards).

Oakland is 13th in the NFL and fifth AFC against the run, allowing 107.9 yards per game. It is Oakland's best showing against the run since the 2002 season, the last time the Raiders made the playoffs and had a winning record.

The Raiders defeat the San Diego Chargers 27-17 on Oct. 6 as Terrelle Pryor throws for two touchdowns and Charles Woodson returns a fumble for a score. The 8:35 p.m. (Pacific time) kickoff at O.co Coliseum is the latest start for a West Coast game in NFL history.

First-year Raiders punter Marquette King leads the NFL with a 48.9 yards average on 84 punts. King replaced Shane Lechler, who signed with the Houston Texans after the 2012 season after being Oakland's punter the previous 13 seasons.
Fast Facts


The Raiders allow 453 points during the 2013 season, second most points in franchise history. The 1961 Raiders allowed a franchise-worst 458 points. In the 2012 season, Oakland allowed 443 points, third most in franchise history.

Oakland's Sebastian Janikowski misses an NFL-high nine field goal attempts out of 30 tries (70.0 percent) during the 2013 season. In the 2012 season, he was 31 of 34 on FGAs (91.2 perent) and 31 of 35 (88.6 percent) in 2011.

The Raiders have four players — Terrelle Pryor, Darren McFadden, Rashad Jennings and Marcel Reece — with 100 or more rushing yards in a game this season. Oakland is the first team to accomplish the feat since Kansas City had five players reach the 100-yard rushing plateau in 1978.

The Raiders have lost 13 straight games in the Eastern time zone since beating Pittsburgh 27-24 in December 2009. Oakland has been outscored 414-225 in those games. The Raiders are 0-3 this season in games in the Eastern time zone, losing to the Colts (21-17), Giants (24-20) and Jets (37-27).
By The Numbers:
2-14: Raiders' road record in the 2012 and 2013 seasons.
8-24: Raiders' record the past two seasons under head coach Dennis Allen.
11: Consecutive non-winning seasons by the Raiders. Oakland has not had a winning record since the 2002 season when it went 12-4 en route to a berth in Super Bowl XXXVII.
33: Touchdown passes allowed by Oakland, a franchise record.
453: Points allowed by Oakland during the 2013 season, second most in franchise history.
They Said It
"I think we're a lot closer. Obviously the record doesn't say so. We all recognize that at the end of the day this is a production business. We understand that you are what your record says you are. But I also know there's a lot of areas where this football team has improved."
Raiders coach Dennis Allen
"You have to appreciate where you came from, where we were last year and this year. Our record might not be different, but as a team we're right there. We just have to get that one thing to help us get that win at the end.
Raiders WR Rod Streater
"Continuity would be a good thing. I think we've had a new offense here four or five years in a row. A lot of new coordinators, a lot of new head coaches — it makes it tough to progress when you're always starting at square one when the season starts."
Raiders C Stefen Wisniewski
Did You Know?:
Dennis Allen has lost more games (24) in his first two seasons than any coach in Raiders history. The previous only coach the team brought back after losing records in the first two seasons was Tom Cable, who went 9-19 his first two seasons after replacing the fired Lane Kiffin after four games in 2008. Cable went 8-8 in his final season before being fired after the 2010 season.
---
Cornerback Tracy Porter is the first NFL player to have interception returns for touchdowns against both of the Manning brothers. Porter returned an Eli Manning pass 43 yards for a touchdown late in the first half of an eventual 24-20 Oakland loss against the New York Giants on Nov. 3. Porter's most famous interception to date is a 74-yard touchdown return against Peyton Manning when the New Orleans Saints beat the Indianapolis Colts 31-17 in Super Bowl XLIV at the end of the 2009 season.
---
The Raiders dropped their third straight Thanksgiving game when they lost 31-24 to the host Dallas Cowboys on Nov. 28. The Raiders are 3-4 in Thanksgiving games, including a 3-1 record in American Football League play. Since the AFL-NFL merger, the Raiders are 0-3 on Thanksgiving — a 28-14 loss at the Detroit Lions in 1970, a 24-7 loss to the Cowboys in 2009 and a 31-24 loss to Dallas in 2013.
---
Updated: 01-12-2014
OAKLAND RAIDERS RAP
Archives | Court | Home | Links | Schedule | Tickets