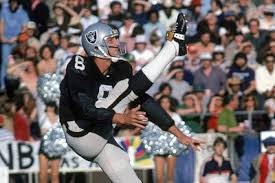 Guy Joins NFL's Greats


Former Raider Ray Guy, arguably the greatest punter in NFL history, was among seven players inducted into the Pro Football Hall of Fame Class of 2014 on Aug. 2 in Canton, Ohio.

After waiting 23 years, Guy is the first punter elected to the Hall of Fame. He was a modern era finalist seven times.

Joining Guy (top photo) in the Class of 2014 are fellow HOF senior committee nominee defensive end Claude Humphrey and modern era candidates defensive end Michael Strahan, receiver Andre Reed, defensive back Aeneas Williams, linebacker Derrick Brooks and offensive tackle Walter Jones.

"There are no more games to play," Guy said during his induction speech, "no more records to set or championships to win. This is beyond my wildest dreams. I didn't do it alone.

"Playing in the NFL with the Raiders was my destiny."

Said former Raiders coach John Madden and fellow Hall of Famer during his introduction of Guy: "Punters are football players too."

Guy, right, had a career punting average of 42.4 yards after playing for the Raiders from 1973 to 1986. He played in seven Pro Bowls and was named All-Pro six times. The former Southern Mississippi All-America was the first punter selected in the first round (23rd by Oakland in 1973) of the NFL draft.
Only three of his 1,049 punts were blocked, and he had 209 punts downed inside the 20-yard line while playing all of his 207 games in 14 seasons with the Raiders.
Guy was a specialist in directional kicking, and his booming punts helped popularize the term "hang time." He played on three Raiders Super Bowl champion teams.
"It's gratifying to now see a punter go into the Hall of Fame," Guy told reporters Feb. 1. "Whether it was me or somebody else, they needed representation in that position.''
Said former Raiders coach Tom Flores:
"With his ability, he was such a unique and great punter that he changed the way that punting was viewed and changed the whole complexion of the game. There were some punters before him that were pretty impressive, but Ray was the kind of guy that gave you that 'wow' when you watched him. Ray was more than just a punter – he was a great athlete."
Said Raiders Hall Fame receiver Fred Biletnikoff:
"Ray could have been considered our most valuable player every year, as he was the one constant whose performance in every game gave us a chance to win. Statistics didn't do him justice, as Ray sacrificed those for good of the team. If the situation called for him to boom a punt long and high, he would. If it called for a coffin corner kick, He was a weapon and had the ability to flip the field. Ray set the standard for all punters to follow."
Guy joins Jan Stenrud as the only kickers enshrined in the Hall of Fame.
For more information on the Class of 2014, please click Pro Football Hall of Fame
Contributing:
The Associated Press &


Raiders.com
Updated: 08-02-2014
OAKLAND RAIDERS RAP
Archives | Court | Home | Links | Schedule | Tickets