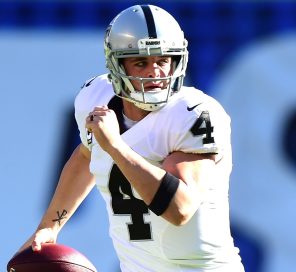 Raiders 2016 Season Review


For all intents and purposes, the Oakland Raiders' 2016 season ended prematurely on Christmas Eve — when Pro Bowl quarterback Derek Carr fractured his right fibula after being sacked during the fourth quarter against the Indianapolis Colts.

In their two remaining contests, at Denver with the AFC West title at stake in the regular-season finale and the following week at Houston in their first playoff game in 14 seasons, the Carr-less Raiders did not resemble the resilient team that went 12-3 the first 16 weeks.

In their two biggest games of the season, the Raiders were no match for the Broncos and Texans, struggling on offense and defense and losing by a combined 51-20 score.

Instead of a deep run into the NFL playoffs, these Raiders were left to ponder how their fortunes may have been different with a healthy Carr, who played at an MVP level until his season-ending injury.

Here's a capsule review of Oakland's 2016 season:

Offensive MVP: QB Derek Carr

Carr was a bonafide MVP candidate when he fractured a fibula on Dec. 24. He finished with 28 TD passes and 6 interceptions for 3,937 yards and a 63.9 completion percentage in 15 games. The former Fresno State star engineered seven comebacks in the fourth quarter or overtime during the 2016 season.

Defensive MVP: DE Khalil Mack

Named 2016 NFL Defensive Player of the Year after contributing 11.0 sacks, five fumble recoveries, three forced fumbles and a pick-six. He did not have a sack in the season's first first three games and recorded 11 sacks over a 10-game stretch. Mack has 30 sacks in 48 career games with the Raiders.

End of a Dubious Era

The Raiders ended a franchise-worst streak of 13 consecutive seasons without a playoff berth with a 19-16 victory at San Dieo on Dec. 18. Oakland had not gone to the playoffs since 2002. The Raiders also snapped a streak of 13 non-winning seasons in 2016.

Captain Comeback

Derek Carr set an NFL single-season record with his fifth game-winning TD pass in the fourth quarter or overtime in Oakland's 38-24 victory over Buffalo on Dec. 4 He also set a franchise record with his sixth fourth-quarter comeback/game-winning drive in 2016. Carr has 10 fourth quarter-comeback/game-winninbg drive performances sinc 2015 and 11 for his career.

1,000 Yard Club

Amari Cooper (1,153) and Michael Crabtree (1,003) each eclipse the 1,000 plateau in receiving yards during the 2016 season, becoming the first Raiders duo to reach 1,000 receiving yards since Hall of Famers Tim Brown and Jerry Rice accomplished the feat in 2001.

Road Warriors

The Raiders equal a franchise record with six road wins during the 2016 season. The team was 6-1 in road games in 1974 and 1976. In two seasons under coach Jack Del Rio, the Raiders are 11-6 in away games.

Strength In The Trenches

Oakland allowed an NFL-low 18 sacks during the regular season. It is the fewest sacks surrendered by the team since 1982 when sacks became an official statistic.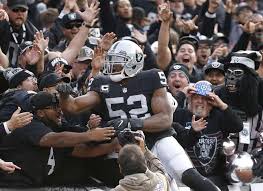 Fast Facts

The Raiders' 12 victories equal the most wins by the team since the 2000 season when Oakland also had a 12-4 record. The franchise record for most wins in a season is 13 when the Raiders went 13-1 in the 1976 regular season before winning three postseason games en route to the franchise's first Super Bowl title.

Despite having three turnovers in the season finale at Denver on Jan. 1, Oakland finished the 2016 season with a franchise-best 14 giveaways, bettering the previous record of 19 turnovers set in 2002.

With 12 rushing touchdowns, Latavius Murray is the first Raider to have 10 or more rushing TDs since Marcus Allen had 12 in 1990.

The Raiders finished the 2016 regular season leading the league in penalties and penalty yards. They had 147 accepted penalties forf 1,247 yards. The club record for most penalties in a season is 163 and most penalty yards is 1,358, both set in 2011. Oakland set an NFL record with 23 penalties for 200 yards during a 30-26 overtime win at Tampa Bay on Oct.l

The Raiders went 3-0 in the Eastern time zone after going 1-17 the previous 18 games in the ETZ.

By The Numbers

5: Game-winning TD passes by Derek Carr in the fourth quarter or overtime, an NFL record

5-2: Oakland's win-loss record at Oakland-Alameda County Coliseum, equaling the team's best home showing since 2010.

6: Raiders road victories, equaling a franchise record for most road wins in a season.

7: Comeback victories by the Raiders in the fourth quarter or overtime.

25: Oakland sacks, the fewest sacks by any team in the NFL. The Raiders do not have a sack in their final three games, including a playoff loss at Houston in the wild card round on Jan. 7.

26: Sacks by Khalil Mack the last two seasons, the only player in the NFL with at least 25 sacks the past two seasons.

They Said It

"It's an exciting time in Oakland. It's definitely fun times. We've come a long way. ... But we still have yet to do anything."

QB Derek Carr after the Raiders rallied
to defeat the Buffalo Bills 38-24 on Dec. 4

"I can't even describe my words man. It feels so special. I waited a long time for that."

K Sebastian Janikowski after Oakland clinched
a playoff berth with a win at San Diego on Dec. 18

"Seeing him go down like that, it hurt us. It didn't even feel like we won."

Raiders LB Bruce Irvin on Derek Carr
suffering a fractured fibula on Dec. 24

"I tell guys all the time: You get what you earn in this league. And we didn't do enough to earn a win tonight."

Raiders coach Jack Del Rio after
a 24-6 loss at Denver on Jan. 1

"It was his first start, on the road, in a playoff game, against the No. 1-ranked defense. It was a tough draw for him. We had hopes that we would be able to do enough around him so he wouldn't have to do as much."

Raiders coach Jack Del Rio on QB Connor Cook's
play during a 27-14 playoff loss to Houston on Jan. 7

Did You Know?

Kicker Sebastian Janikowski had made 266 of his previous 267 extra-point attempts before missing twice in the second quarter of Oakland's 33-25 victory over Indianapolis on Dec. 24.
---
The Oakland-Alameda County Coliseum turned 50 years old when the Raiders hosted the Atlanta Falcons on Sept. 18, a 35-28 Oakland loss. The venue' first event was on Sept. 18, 1966 when the Raiders lost 32-10 to the Kansas City Chiefs.
---
Updated: 7-6-2017
OAKLAND RAIDERS RAP
Archives | Court | Home | Links | Schedule | Tickets