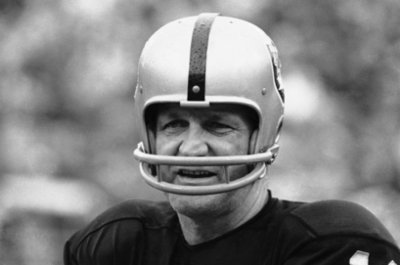 Raiders Legend Blanda Dies
George Blanda, the iconic Hall of Fame quarterback and kicker who played a record 26 seasons of professional football and once almost single-handedly engineered five straight Raiders victories, has died. He was 83.
"We are deeply saddened by the passing of the great George Blanda," the Raiders said in a statement Sept. 27. "George was a brave Raider and a close personal friend of Raiders owner Al Davis...the miracle of George Blanda in 1970 will live for eternity in the history of the Raiders, as well as all of professional football."
The Pro Football Hall of Fame said on its website that Blanda died Sept. 27 after a brief illness.
Blanda reportedly had homes in the Chicago area and Palm Springs and is survived by his wife Betty, to whom he was married for 60 years. Blanda attended the Raiders-Bears exhibition game in Chicago on Aug. 21.
"The team and I and the coaches would like to send our hearts, thoughts and our prayers to the George Blanda family,'' Raiders coach Tom Cable told reporters Sept. 27. ``Obviously that's a tremendous loss for the entire Raider family. I got a chance to meet him in Chicago for the first time. For me, to meet one of your heroes up close was a pretty special deal.''
Blanda played for the Raiders from 1967 through 1975 and was inducted into the Pro Football Hall of Fame in 1981, with Davis giving the presentation speech.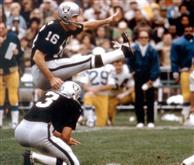 Blanda (16) retired a month shy of turning 49 before the 1976 season, playing longer than anyone else in pro football history. He spent 10 seasons with the Chicago Bears, part of one with the Baltimore Colts, seven with the Houston Oilers and his final nine with the Raiders.
He scored 2,002 points in his career, a pro football record at the time of his retirement, kicking 335 field goals and 943 extra points, running for nine touchdowns and throwing for 236 more. Blanda threw for 26,920 yards and held the pro football record with 277 interceptions until Brett Favre passed him in 2007.
The signature imprint of Blanda's legendary career is a five-game stretch with the Raiders during the 1970 season. At 43, Blanda led Oakland to four wins and a tie with late touchdown passes or field goals.
Later that season, the former University of Kentucky star became the oldest quarterback to play in a championship game, throwing two touchdown passes and kicking a field goal in Oakland's 27-17 loss to host Baltimore in the AFC title game. His accomplishments that season earned him The Associated Press Male Athlete of the Year.
"George Blanda will always be remembered as a legend of our game," NFL commissioner Roger Goodell said in a statement, "including his amazing career longevity of 26 seasons in four different decades. George's multi-talented flair for the dramatic highlighted the excitement of pro football during an important period of growth for our sport."
Blanda began his memorable Raiders run in 1970 by throwing three touchdown passes in place of an injured Daryle Lamonica in a 31-14 win over Pittsburgh on Oct. 25. The following week he kicked a 48-yard field goal in the final seconds to give the Raiders a 17-17 tie at Kansas City.
Blanda threw a tying touchdown pass with 1:34 remaining and then kicked the game-winning 52-yard field goal in the final seconds the following week in a 23-20 win over Cleveland.
He followed that with a 20-yard TD pass to Fred Biletnikoff in place of Lamonica in a 24-19 victory at Denver the next week, then kicked a 16-yard field goal in the closing seconds to beat San Diego 20-17 on Nov. 22.
"The game that I remember the most was playing against Cleveland in 1970," Blanda once told reporters. "We were down 20-13 and I came in and we got a touchdown and then we got a field goal in the last three seconds."
One year after his retirement from the NFL's Bears, Blanda joined the Oilers of the new American Football League in 1960 and played 16 seasons before retiring following the 1975 season. He led the Oilers to the first two AFL titles, beating the San Diego Chargers for the championship following the 1960 and 1961 seasons.
Blanda was one of the new league's many prolific passers, throwing for 19,149 yards and 165 touchdowns in seven seasons for the Oilers. He was the AFL Player of the Year in 1961, holds the AFL single-game passing record of 464 yards against Buffalo on Oct. 29, 1961, and was chosen the league's all-time kicker.
In the 1961 season, Blanda passed for 3,330 yards and set a pro football record with 36 touchdown passes. That stood until 1986, when it was broken by Miami's Dan Marino.
"He was the perfect fit for the start of the AFL, joining our league from the NFL and displaying the ability to lead a high flying offense," Houston Oilers/Tennessee Titans owner Bud Adams said in a statement. "His play garnered our league a lot of attention and fans. We had a celebration last year in Houston for the 1960 and 1961 AFL championship seasons and the team hall of fame members and it was great to have George join us and remember fondly those early years."
Contributing: The Associated Press, Los Angeles Times & Oakland Tribune
Top photo credit:
Associated Press 1971
Second photo caption/credit:
George Blanda kicks out of
the hold of Daryle Lamonica.
Updated: 09-27-2010
OAKLAND RAIDERS RAP
Archives | Court | Home | Links | Schedule | Tickets