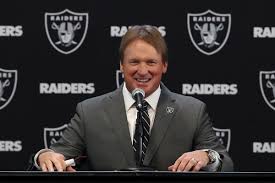 Gruden Takes Center Stage
Jon Gruden was introduced as Raiders coach on Jan. 9, 2018 at the team's headquarters in Alameda, Calif. He reportedly received a 10-year, $100 million contract to return to the Raiders. Gruden, 54, had a regular-season record of 38-26 during his first stint with the Raiders from 1998 to 2001 and went 2-2 in two postseason appearances prior to being traded to the Tampa Bay Buccaneers for two first-round picks, two second-round picks and $8 million in 2012. Gruden won Super Bowl XXXVII in his first season with Tampa Bay, and he had a 57-55 record with the Bucs before being fired after the 2008 season. He has a 95-81 NFL career record in the regular season while going 5-4 in the postseason. Gruden spent the past nine years working as a broadcaster for ESPN on Monday Night Football.
During his 37-minute, re-introductory news conference, Gruden demonstrated he has the knack for delivering insightful and entertaining soundbites
On returning to the Raiders:
"I never wanted to leave the Raiders. I never thought I'd be back. But here I am and I'm ready to get to work. And I just want to say that there's really four major reasons that I am here coaching today. No. 1, I love football. I love the players that play it. I love the preparation. I love the journey. I love football. And I love the city of Oakland. I had a son here. Some of my great memories in life are in Oakland. And I want to give them two of the best years of football that I could possibly help deliver, and I love the Raiders. The brand is global — everywhere I went as a Monday Night Football analyst the Raider Nation would come out of the ground. I love the Raiders and most of all I love to win. I'm going to do everything I can — no guarantees, no promises — but I want to win."
On receiving a 10-year, $100 million contract from the Raiders:
"I do not have a guarantee to be alive for 10 years, just so people know."
On returning to the NFL coaching ranks after being a broadcaster for nine years:
"I have a lot to prove. There's no question. I haven't coached a game since 2008. I haven't won a game since 2008. I haven't lost any either. I just want to keep that in perspective."
On expectations for a Raiders team that has not won a playoff game or division title since 2002:
"There is unfinished business. And as a coach, I was traded. I've been fired. I've missed the game terribly. But I've really missed the Raiders. For my career to end on that night in New England (an OT loss to the Patriots in January 2002). It still ticks me off. (Tom) Brady fumbled that ball. I'm so thrilled to be back here. I hope people understand the emotion inside of me. I feel unfinished business. I also feel a lot of loyalty, and I feel a lot of responsibility to get the Raiders going again. It's been a while since we consistently performed at a high level and that's really all I care about. I'm going to do everything I can to help this team get right again."
On quarterback Derek Carr:
"He has a great arm talent. He's athletic. He's got natural leadership skills. He's young. He's in his prime. He's healthy now. He's I think been in a lot of different systems — he's played for a number of different (coaches) or has not (had) a lot of continuity around him that way. I think he's got a huge upside. I think with (offensive coordinator) Greg Olson and the system we're going to put in place, it's going to demand a lot from him and I think that's what is going to unlock the greatness in him. (I'm) very, very excited to have him as our quarterback."
On his message to Raider Nation:
"I would just like to say that I'm glad to be back. I'm glad to unite with them. I never wanted to leave. I am thrilled to be back and I plan on doing everything that I can with this opportunity. Let's go. That is what I say to Raider Nation. Let's go. Let's stop talking, and let's get to work."
Updated: 1-9-2018
Contributing: NFL.com
OAKLAND RAIDERS RAP
Archives | Court | Home | Links | Schedule | Tickets