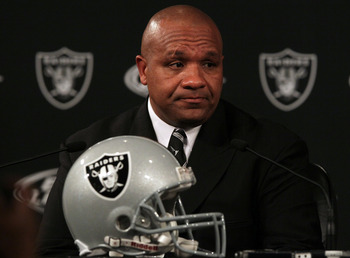 Jackson Named Head Coach


Former offensive coordinator Hue Jackson was introduced as Raiders coach on Jan. 18. Wearing a suit and tie, he spoke with bravado and enthusiasm.

"My job is to do everything I can to take this team where we know we want to go, which is the Super Bowl," Jackson told reporters at a news conference at the team's Alameda, Calif. headquarters. "We're going to build a bully here. This is the Raiders. We know exactly where we're headed and what we want to do. I think our players today are very excited about where they are going."

Jackson, 45, replaces Tom Cable, who was not retained following an 8-8 record in the 2010 season. Jackson becomes the Raiders' sixth head coach since 2003 and 17th overall (Art Shell had two stints as head coach) in franchise history. It's his first head coaching job at any level.

Jackson reportedly had been the leading candidate since the Raiders announced Jan. 4 they would not pick up the two-year, $5 million option on Cable's contract. Cable had a 27-17 win-loss record with Oakland since taking over for the fired Lane Kiffin four games into the 2008 season.

Raiders managing general partner Al Davis told reporters Jan. 18 that he talked with three candidates that he had interviewed previously, mostly by telephone. The franchise czar quickly decided on Jackson.

"Everything pointed toward the guy on my right. Everything," Davis, 81, said "I don't see anything from a character, personality, anything that would not, not let me raise his hand and say he should be the coach of the Raiders and be the ambassador to the Raider Nation and the country and around the world."

Jackson, right, was hired last Jan. 26 to take over the play-calling duties from Cable and led a Raiders resurgence on offense during the 2010 season. The Raiders ranked second in rushing, sixth in scoring and 10th in total offense. Oakland's 410 points more than doubled its 197 points from the 2009 season. This season's Raiders' point total was sixth-best in franchise history.
The offensive improvement helped the Raiders end a string of seven consecutive seasons with at least 11 losses. Oakland hasn't had a winning season since 2002, the last time the team advanced to the playoffs.
"Obviously this is a very talented and young football team here," Jackson said. "We have some tremendous players on the offensive side of the football."
Under Jackson's tutelage, quarterback Jason Campbell had a solid performance in his first season with the Raiders. Campbell completed 59 percent of his passes, threw for 13 touchdowns with eight interceptions and had an 84.5 passer rating.
Over the season's final five games, Campbell completed 64.7 percent of his passes with six touchdowns, two interceptions and a passer rating of 96.4.
"He played flawless. He played almost as good as you can play as a quarterback in our league," Jackson said. "Led us to some very impressive wins. And I look forward to him doing the same thing this year in our system, same system, opportunity to go out with the same teammates, OK, and go out and play the way we know he can play."
During the season's waning weeks, many Raiders veterans voiced their support for Cable to remain as coach. Jackson reportedly was popular with the Raiders players during the 2010 season because he brought energy and competitiveness to practice.
"I don't feel I have to overcome anything," Jackson said. "I've been here with our players. Our players have been very supportive. Today alone I got 20 text messages from our players, who are very excited about me being here, being the head coach, and they can't wait to get back here. Because I think our players know as I talked earlier, we're going to create an environment here for our players to be as good as they can be, on offense, defense and special teams."
Said Davis: "As much as you thought Tom had support in the locker room, there was to a point with people he socialized with. Hue will have support in the locker room just as much as Tom Cable, if not more."
Jackson told reporters he will continue to be the primary play-caller but needs to hire coordinators on both sides of the ball. Jackson mentioned veteran NFL assistant Al Saunders as a potential choice as offensive coordinator. Saunders reportedly has interviewed for past openings with the Raiders and worked with Campbell for two seasons with the Washington Redskins.
Jackson also told reporters that defensive coordinator John Marshall would not be retained and said defensive line coach Mike Waufle could be a candidate to replace him. The Raiders had 47 sacks this past season, tied for second highest in the league.
Before joining the Raiders, Jackson spent two seasons as the Baltimore Ravens' quarterbacks coach. He also was the Atlanta Falcons' offensive coordinator (2007), the wide receivers coach for the Cincinnati Bengals (2004-06) and running backs coach and then offensive coordinator of the Washington Redskins (2001-03).
On the college level, Jackson was the USC offensive coordinator (1997 to 2000) and held a similar position at Cal (1996). He also had stints as an assistant coach at Pacific (1987-89) and Cal State Fullerton (1990-91).
Contributing: The Associated Press
&
Oakland Tribune
---
Photo caption/credit:


New Raiders coach Hue Jackson prepares to answer
a reporter's question at a Jan. 18 news conference.
By Justin Sullivan/Getty Images

Hue Jackson thumbnail photo
By Justin Sullivan/Getty Images
---
Updated: 01-20-2011
OAKLAND RAIDERS RAP
Archives | Court | Home | Links | Schedule | Tickets