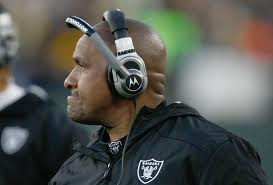 Hue Is Shown The Door


The Raiders fired first-year head coach Hue Jackson on Jan. 10, the same day Reggie McKenzie was introduced as the team's new general manager.

Jackson, top photo, had an 8-8 record this season. The Raiders missed the playoffs for the ninth straight season, losing four of their final five games after a 7-4 start.

Jackson's dismissal comes four days after Oakland's hiring of McKenzie, 48, the Green Bay Packers director of football operations since 2008. Jackson, 46, reportedly was fired hours before McKenzie was introduced at a news conference at Raiders headquarters in Alameda, Calif.

"The decision centered on me wanting my own guy,'' McKenzie said Jan. 10. "If Hue would have finished 7-0 down the stretch and they made the playoffs, that would have played a role. But you look into every dynamic . . . I want to bring my own guy in, and (Raiders owner) Mark (Davis) was OK with that. Period. That's what we want."

Jackson told Yahoo Sports! and Bay Area News Group on Jan. 10 that he believed it was Mark Davis' decision to let the coach go.

"I think Mark wants to make some changes going forward to put his stamp on things," Jackson said. "I can understand that. That's his right."

Oakland now seeks its seventh head coach since Jon Gruden left for the Tampa Bay Buccaneers after the 2001 season — following Bill Callahan, Norv Turner, Art Shell, Lane Kiffin, Tom Cable and Jackson. Oakland has hired and fired nine head coaches since the team returned to Oakland in 1995.

Green Bay assistant head coach and former Raiders linebacker Winston Moss is among the reported top candidates as the next Raiders coach. McKenzie said on Jan. 10 that Oakland's new coach will be allowed to hire his assistants.

Jackson, right, was promoted from offensive coordinator after the 2010 season by late owner Al Davis, who died Oct. 8. Davis' son, Mark, took over the role as franchise owner. After Al Davis' passing, Jackson handled personnel decisions for the team as well as his duties as head coach.
Jackson made a controversial October trade for quarterback Carson Palmer after starter Jason Campbell was sidelined for the season because of a broken collarbone. The Raiders reportedly sent the Bengals a 2012 first-round draft choice and a 2013 conditional second-round pick to acquire Palmer, who threw 11 touchdown passes and 16 interceptions in 10 games with Oakland this season.
"I feel like Hue did a good job and made great strides as a coach," Raiders' Pro Bowl defensive tackle Richard Seymour said Jan. 10. "He always got his team ready to perform. Obviously, it didn't show as much on Sundays as we would've liked, given our record. But I thought we had the right process."
Jackson joined the Raiders in 2010 under then-head coach Tom Cable and engineered a dramatic offensive improvement as Oakland more than doubled its point total and improved to 8-8.
Oakland's offense this season wasn't as productive with Jackson as head coach as injuries to star running back Darren McFadden, receiver Jacoby Ford and Campbell were contributing factors.
But the biggest problems for the Raiders was an inability to curb penalties and an imploding defense. The team committed 163 penalties for 1,358 yards, setting NFL records in both categories, as Jackson was unable to instill the discipline he promised.
On defense, the Raiders established franchise worsts in touchdown passes allowed (31), rushing yards per carry (5.1), yards passing (4,262) and total yards (6,201), while giving up the third-most points (433) in team history.
Oakland joined this season's Tampa Bay team as two of the four teams to allow at least 30 TD passes and 5.0 yards per carry in a season, a distinction achieved previously by only the 1950 Baltimore Colts and 1952 Dallas Texans. The Raiders also became the sixth team since the 1970 merger to allow at least 2,000 yards rushing and 4,000 yards passing in a season.
Contributing: Yahoo Sports! &
Oakland Tribune
Updated: 01-10-2012
OAKLAND RAIDERS RAP
Archives | Court | Home | Links | Schedule | Tickets