Obituary: Tom Keating


Tom Keating, a former defensive tackle who helped the Raiders advance to Super Bowl II, passed away on Aug. 31, according to published reports. The Chicago native died of prostrate cancer in Denver, two days before his 70th birthday.

The Raiders confirmed Mr. Keating's passing Sept. 5 on their website, raiders.com

A three-year starter at the University of Michigan, Keating was drafted in 1964 by the NFL's Minnesota Vikings and AFL's Kansas City Chiefs. He spent the 1964 and 1965 seasons with the AFL's Buffalo Bills before playing for Oakland from 1966 to 1972.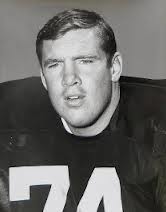 Keating, right, was a starting defensive tackle on the 1967 Raiders team that had a 13-1 regular-season record, won the franchise's first Western Division title, beat the Houston Oilers 40-7 in the American Football League Championship and lost 33-14 to the Vince Lombardi-coached Green Bay Packers in Super Bowl II.
Undersized at 6-foot-2 and 247 pounds for defensive linemen during his playing era, Keating compensated with quickness, strength and a four-point stance with both hands on the ground.
The defensive line of Keating, Ben Davidson, Dan Birdwell and Ike Lassiter led a fierce Raiders defense in the 1967 season.
Oakland allowed the fewest rushing yards and fewest rushing yards per attempt in the AFL. The Raiders also had 67 sacks (still a franchise record) and finished third in fewest passing yards and second in points allowed.
Keating was a first-team AFL All-Star in 1967 and played in the AFL All-Star Game in 1966 and 1967. He also played for the NFL's Pittsburgh Steelers and the Kansas City Chiefs before retiring following the 1975 season.
Keating was selected to the AFL All-Time 2nd Team. He played on three AFL championship teams — the Bills in 1964 and 1965 and the Raiders in 1967. He appeared in 144 games, starting 25 and contributing five fumble recoveries.
Contributing: SFGate.com & Wikipedia
Updated: 09-06-2012
OAKLAND RAIDERS RAP
Archives | Court | Home | Links | Schedule | Tickets