Long-Awaited Day


Wearing a gold Hall of Fame blazer, John Madden surveyed the crowd in Fawcett Stadium in Canton, Ohio on Aug. 5 and asked the estimated 30 to 40 former Raiders players to stand up. After doing as told by their former coach, some eased back into their seats.

"All of a sudden, I mean 30 or 40 years ago, they were ready to hit anything," Madden said during the 2006 Pro Football Hall of Fame induction ceremonies. "Let's go to the party, let's do this. Now they want to sit down.

"No, no, stay up. This is our day in the sun. Doggone it, take it."

Joining Madden (right) in the Class of 2006 are five former players — quarterbacks Troy Aikman and Warren Moon, the late defensive end Reggie White, linebacker Harry Carson and offensive tackle Rayfield Wright.
Madden, 69, waited 28 years after retiring from coaching to be enshrined in the Canton pantheon. As the coach-turned-broadcaster stood on the podium next to his bronzed Hall of Fame bust, he expressed his gratitude for the road he has traveled.
"It was a long wait, but it was a wait, you know, when you finally get in, it's made it all worth while, because the feeling is so special and you appreciate it so much more," Madden said. "I have never worked a day in my life. I went from player, to coach, to a broadcaster, and I am the luckiest guy in the world."
"This is overwhelming, mind blowing, that through this bust, with these guys, in that Hall, we will be forever. You know, when you think of that, it just blows your mind. It's forever and ever and ever."
Madden had an overall record of 112-39-7 with the Raiders from 1969 to 1978. His winning percentage of .739 is second among coaches with 100 or more wins behind Vince Lombardi at .750. Madden had the best regular-season percentage at .759 (103-32-7). He was 9-7 in postseason games.
Raiders managing general partner Al Davis presented his former coach during enshrinement ceremonies. Davis told the crowd in Canton that Madden was 36-16-2 against other HOF coaches. Davis promoted Madden from assistant coach to head coach at the age of 32.
"John coached in the golden era of great coaches," Davis said. "In his 10 years, John coached against many who are enshrined in this Hall of Fame: Don Shula of Miami, Chuck Noll of Pittsburgh, Tom Landry of Dallas. Weeb Ewbank, Sid Gillman, Hank Stram, Bud Grant and others."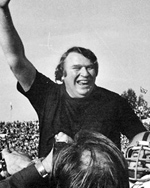 In the 1976 season, Madden (right) led the Raiders to a 16-1 record (13-1 regular season, 3-0 playoffs) en route to the franchise's first NFL title. Oakland defeated the Minnesota Vikings 32-14 in Super Bowl XI at the Rose Bowl in Pasadena, Calif. on Jan. 9, 1977. The 16 wins are the most by a Raiders team in a single season.
During Madden's 10 seasons as head coach, the Raiders never had a losing record and advanced to seven AFL/AFC title games. The longtime TV football analyst had a winning percentage against all 10 of the HOF coaches he faced.
"It's been a great ride. I want to thank everyone who's been along for any part of it," Madden said, fighting off his emotions.
"Speaking of great rides, I was lucky enough to be carried off the field when we won Super Bowl XI. ... Today feels like the second time in my life that I'm being carried off on the shoulders of others. Instead of off a field, it's into the Hall of Fame. Instead of five or six guys, today I ride on the shoulders of hundreds of friends, coaches, players, colleagues, family. I thank you all very much and this has been the sweetest ride of them all."
According to HOF rules, election requires 80 percent of the voters (a minimum of 32) from a 39-member selection committee. A minimum of three and a maximum of six candidates are elected each year. Madden and Wright were nominated by the Hall's Seniors Committee in August 2005. They joined 13 candidates from the modern era as finalists in January. Wright, who went to six straight Pro Bowls as a member of the Dallas Cowboys during the 1970s, waited 22 years to be elected.
Madden joins 15 other Raiders to be elected to the Hall. Madden and team owner Davis are the only Raiders coaches to be enshrined.
"I started thinking about this after I was voted to the Hall of Fame, and now I know," Madden said. "At night, there's a time when they all leave. All the fans and all the visitors leave the Hall of Fame. Then there's just the workers. Then the workers start to leave. It gets down to there's just one person. That person turns out the light, locks the door.
"I believe that the busts talk to each other. I can't wait for that conversation, I really can't. Vince Lombardi, Knute Rockne, Reggie, Walter Payton, all my ex players, we'll be there forever and ever and ever talking about whatever. That's what I believe. That's what I think is going to happen, and no one's ever going to talk me out of that."
For more information on the Class of 2006, please click Pro Football Hall of Fame
Updated: 8-5-2006
OAKLAND RAIDERS RAP
Archives | Court | Home | Links | Schedule | Tickets