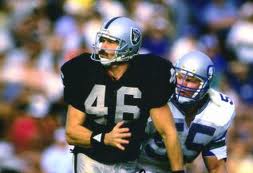 Obituary: Todd Christensen


Former Pro Bowl tight end Todd Christensen, who helped the Raiders win two Super Bowls, died from complications during heart transplant surgery. He was 57.

Brigham Young University, his alma mater, announced that he died Nov. 13 in a Utah hospital. He reportedly waited 10 months for a donor liver. The Salt Lake (Utah) Tribune reported that Christensen had battled liver disease and other illnesses.

"I am deeply saddened to hear the news about the passing of my former teammate Todd Christensen," Raiders general manager Reggie McKenzie said in a statement released by the team. "Todd was a special player and an exemplary teammate and I cherished our time together as Raiders."

After starring at running back for BYU from 1974 to 1977, Christensen was a second-round pick of the Dallas Cowboys in the 1978 NFL draft.

He was waived by the Cowboys after breaking his foot in training camp but landed a year later with the Raiders in 1979 following a short stint with the New York Giants.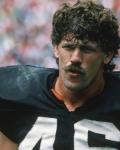 Christensen, right, played 10 seasons with the Raiders and won Super Bowls in 1981 and 1984. He was named to the Pro Bowl five times and twice was an All-Pro selection. In 1983, he had 92 catches, setting a then NFL record for tight ends. He finished the season with 1,247 receiving yards and 12 touchdowns. His 349 receptions from 1983 to 1986 were an NFL record.
"Todd was an excellent football player and was prolific in the passing game," said former Raiders coach Tom Flores. "He was a hybrid tight end, an H-back before it became a football term. He started out as a special teamer and was named our special teams captain right away while playing behind Raymond Chester and Dave Casper. He then helped us win Super Bowls."
Christensen broke his own single-season reception record in 1996 with 95 catches for 1,153 yards and eight touchdowns. He finished his NFL career with 467 catches for 5,872 yards and 41 touchdowns.
On the Raiders' franchise statistical lists, Christensen ranks second in single-season catches (95 in 1986), fourth in career receiving yards (5,872) and is tied for second with three seasons of 1,000 or more receiving yards. He is the only Raider to twice lead the league in single-season receptions.
As a collegian, Christensen played on four Western Athletic Conference championship teams for BYU, catching 152 passes for 1,568 yards and 15 touchdowns. He was inducted into the school's Hall of Fame in 1992.
He was a color commentator for the NFL on NBC from 1990-94, and did color commentary for ESPN and the now-defunct Mountain West Sports Network before handling Navy games for CBS Sports Network in the 2012 season.
Christensen reportedly is survived by his wife, Kathy, and four sons.
Photo caption/credit:
Raiders tight end Todd Christensen (46)
is defended by the Seahawks' Brian Bosworth.
From The Official Collection.com
Todd Christensen thumbnail
From NFL.com
Contributing:
Associated Press
Updated: 11-13-2013
OAKLAND RAIDERS RAP
Archives | Court | Home | Links | Schedule | Tickets