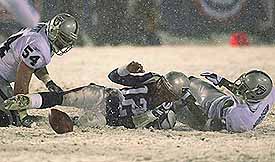 Patriots 16, Raiders 13
FLASH RECAP:
Adam Vinatieri kicks a 23-yard field goal with six minutes, 31 seconds remaining in overtime to give New England a dramatic victory over Oakland in an American Conference divisional playoff game before an announced crowd of 60,292 at Foxboro Stadium on Jan. 19, 2002. The Patriots (12-5) score the final 13 points after the Raiders (11-7) build a 13-3 advantage on a Rich Gannon touchdown pass and two field goals by Sebastian Janikowski. Vinatieri makes a 45-yard field goal with 27 seconds left in regulation to force overtime after quarterback Tom Brady scores on a 6-yard run for New England midway through the fourth quarter.
A controversial ruling by referee Walt Coleman late in the game impacts the outcome.
With New England trailing 13-10, Oakland's Charles Woodson forces what appears to be a game-clinching turnover. Brady fumbles when he's sacked by Woodson on a corner blitz with 1:47 remaining. Linebacker Greg Biekert recovers the fumble at the Oakland 48, and the Raiders begin to celebrate. Not so fast.
After watching a video replay of the play, Coleman overturns his call of the fumble — he rules that Brady's arm was going forward and therefore the play was an incomplete pass, according to The Tuck Rule. Five plays later, Vinatieri kicks a game-tying field goal.
If Brady's fumble stands, the Raiders take possession and likely run out the clock because the Patriots are out of timeouts.
Woodson tells reporters after the game: "It was a B.S. call. The call should have never been changed. It's disappointing to this team that it came down to officiating."
After winning the coin toss, the Patriots drive 61 yards to the Raiders' 5 on the only possession of overtime. On third-and-goal, Vinatieri kicks his third field goal of the game. Brady is 8-for-8 passing for 45 yards on the 15-play drive that takes eight minutes, 29 seconds.
With its seventh straight victory, New England advances to the AFC Championship game. Oakland ends its season with five losses in the past eight games. The Raiders' seven losses this season are by a combined 27 points.
PRIME-TIME PLAYERS:
New England

K Adam Vinatieri — Makes field goals of 23, 45 and 23 yards. On his 45-yard attempt with 32 seconds left, Vinatieri is forced to kick the ball off of about four inches of snow and into a swirling wind. The ball clears the crossbar by about three feet.


QB Tom Brady — A tale of two halves. In the first half, Brady is 6-of-13 passing for 74 yards and one interception. In the second half and extra period, the first-year Patroits starter completes 26 of 39 passes for 238 yards. Brady is 9-for-9 passing on New England's fourth-quarter touchdown drive and 8-for-8 passing in overtime. He finishes with 32 completions in 52 attempts for 312 yards.


CB Ty Law — Has 12 tackles (10 solo) and two passes defensed. Law and linebacker Tedy Bruschi stop Zack Crockett for no gain on third-and-one from the Oakland 44 with 2:19 left.


TE Jermaine Wiggins — Contributes a career-high 10 catches for 68 yards. The East Boston, Mass. native had 14 receptions in the regular season.


WR David Patten — Catches a 6-yard pass from Tom Brady on fourth-and-four from the Oakland 28 on New England's game-winning drive in overtime. Patten finishes with eight receptions for 107 yards.


WR Troy Brown — Not much of an offensive factor (four catches for 43 yards), but he sets up Adam Vinatieri's game-tying field goal with a 27-yard punt return to the New England 46.


Oakland

K Sebastian Janikwoski — Makes field goals of 38 and 45 yards in the second half.


CB Charles Woodson — His sack and forced fumble on Tom Brady should have been the play of the game.


WR James Jett — His 13-yard touchdown catch in the second quarter is his first touchdown since Nov. 26, 2000 against Atlanta. Jett's 10-yard catch to the New England 26 helps set up Janikowski's first field goal.


QB Rich Gannon — Doesn't throw an interception for the third straight game but fails to generate a second-half touchdown for the second time in three games.


LB Greg Biekert — Contributes a game-high 16 tackles (14 solo). He continues to play despite sustaining a third degree separation of the AC joint in his left shoulder on the play before Brady's fumble-incomplete pass.


OG Steve Wisniewski — His splendid 13-year career ends with an overtime playoff loss.

GOAT OF THE GAME:
Referee Walt Coleman. After originally ruling a Tom Brady fumble on a Charles Woodson sack at the Oakland 48 with 1:47 remaining, Coleman rules an incomplete pass. Coleman tells a pool reporter after the game: "Obviously, what I saw on the field, I thought the ball came out before his arm was going forward. Then, when I got to the replay monitor and looked at it, it was obvious his arm was coming forward. He touched the ball. And they just hooked it out of his hand. His arm was coming forward, which makes it an incomplete pass." Given a reprieve by Coleman, the Patriots march for a 45-yard game-tying field goal by Adam Vinatieri with 27 seconds left in regulation.

TURNING POINT:
Trailing 13-10, New England stops Zack Crockett for no gain on third-and-one from the Oakland 44. After Troy Brown returns a Shane Lechler punt 27 yards, the Patriots move 26 yards to the Oakland 28. On fourth-and-nine, Adam Vinatieri kicks a 45-yard field goal with 27 seconds left in regulation.

KEY DRIVE:
New England moves 61 yards in 15 plays for the game-winning field goal on the only possession of overtime. Tom Brady is 8-for-8 passing for 45 yards. He hits 6-yard passes to Jermaine Wiggins on third-and-five and David Patten on fourth-and-four. On third-and-goal from the Oakland five, Adam Vinatieri kicks a 23-yard field goal with 6:35 left in the extra period.

BY THE NUMBERS:

0: Victories by the Raiders in five road playoff games since 1984.
1: Pass completion for 10 yards in five attempts by Rich Gannon in the fourth quarter.
5: Combined field goals by New England's Adam Vinatieri and Oakland's Sebastian Janikowski.
7: Consecutive victories by the Patriots.
12: Wins by Tom Brady in 15 starts as Patriots quarterback.
37: Combined tackles by Oakland linebackers Greg Biekert (16), William Thomas (13) and Elijah Alexander (8).
THEY SAID IT:
"The referees have been making calls against us all year. I don't know why they are against the Raiders. They have old men calling the game. It was 11 against 14 out there. It's unbelievable."
Raiders SS Johnnie Harris
"It was a [expletive] call. They put in instant replay and still can't get it right."
Raiders CB Charles Woodson
"I think the Lord's looking down on us right now and helping us out."
Patriots K Adam Vinatieri
"It's sweet. We just always suck it up when we have to. One way or another, we find a way to win."
Patriots QB Tom Brady
DID YOU KNOW?:
The Raiders have lost five straight road playoff games. Their last road playoff win was a 34-27 victory at San Diego in the 1980 American Conference Championship game on Jan. 11, 1981. With their loss to the Patriots, the Raiders are 3-11 in road playoff games.
Photo caption/credit:


New England's Tom Brady, center, fumbles after being sacked by Oakland's
Charles Woodson, right. Greg Biekert, left, recovers the fumble, but the play
is reviewed and ruled an incomplete pass.
By Associated Press
Updated: 1-20-2002
OAKLAND RAIDERS RAP
Archives | Court | Home | Links | Schedule | Tickets