Ex-Raider Dies


Former Raiders defensive tackle Darrell Russell died after a high-speed car crash in Los Angeles early Dec. 15, according to published reports.

Russell, 29, was a passenger in a car driven by former USC teammate Mike Bastianelli that spun out of control about 6 a.m. and hit a curb, tree, newsstand, fire hydrant, light pole, another tree and an unoccupied transit bus, Lt. Paul Vernon told The Associated Press.

Both Russell and Bastianelli, 29, reportedly were unconscious when firefighters arrived. Russell died at Cedars-Sinai Medical Center and Bastianelli succumbed at UCLA Medical Center.

Russell's NFL career was cut short because of reported drugs use. After making the Pro Bowl in 1998 and 1999, his career went on a fast track to oblivion. The 6-foot-5, 325-pound Russell, the second overall choice in the 1997 NFL draft, had 28.5 sacks in five seasons with Oakland. The former USC star was never the same player after combining for 19.5 sacks in 1998 and 1999.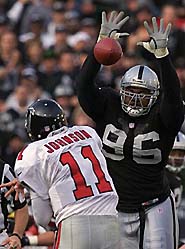 Russell (right) was suspended three times for violating the NFL's substance-abuse policy. After being released by Oakland at the end of his second suspension, he played briefly for the Washington Redskins in 2003 and was cut by the Tampa Bay Buccaneers before the start of training camp the following year.
"Darrell was a good guy. He was a big kid like me that had a big heart," former Raiders offensive tackle Lincoln Kennedy told reporters Dec. 15. "He couldn't say no to anybody. That's what had a big deal with his demise, especially in the NFL, because he couldn't let his friends go, from San Diego. He couldn't let his past go. He always wanted to try to take care and do for other people. It ended up bringing him down."
Russell's first suspension came after a failed drug test, forcing him to miss the first four games of the 2001 season. He was suspended again in January 2002 for testing positive for the drug Ecstasy. The San Diego native was released by the Raiders in October 2003, shortly after being reinstated by the league. Russell tested positive again and was suspended indefinitely in 2004. That suspension reportedly was lifted in August 2005 but he went unclaimed by NFL teams.
The league doesn't disclose details of substance-abuse problems. The policy reportedly covers a wide range of violations, including the illegal use of drugs and the abuse of alcohol, prescription and over-the-counter drugs.
"He became so big and so much into himself that he didn't want to do what it took to stay in the league," Kennedy said of Russell. "He had a couple of chances and he could never right the ship, could never get it right."
Russell also had high-profile legal problems in 2002. He was charged by Alameda County District Attorney's Office prosecutors with drugging a woman at a San Francisco nightclub and then videotaping two friends having sex with her at an Alameda, Calif. home. The charges were dropped less than eight months later. Russell also was arrested in Nevada on suspicion of drunken driving after being pulled over for speeding.
For more on Darrell Russell's legal troubles:
Updated: 12-16-2005
OAKLAND RAIDERS RAP
Archives | Court | Home | Links | Schedule | Tickets