Seymour On Board


Saying he was "blindsided" by being traded from the New England Patriots, five-time Pro Bowl defensive end Richard Seymour joined the Raiders on Sept. 12.

The Raiders acquired Seymour, 29, on Sept. 6 in exchange for a 2011 first-round draft choice.

"Since I got the call that I was being traded, my lifeís really been a whirlwind," Seymour said at a Sept. 12 news conference at the Raiders facilities in Alameda, Calif. "Iíve really been blindsided by the events that took place. I didnít expect it. I didnít understand what was going on. So itís like when something happens, when youíre blindsided, you have to step back and realize what situation youíre in."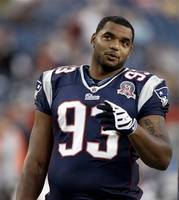 The Raiders reportedly sent Seymour, right, a letter requiring him to report within five days or face possible suspension. Had he not reported, the nine-year veteran could have been suspended for the season without pay and had his contract roll over to 2010.
Seymour, who turns 30 on Oct. 6, reportedly is in the final year of a contract that pays him $3.685. He reportedly twice held out in contract disputes during his eight seasons with the Patriots, getting a $1 million raise after the first holdout and a four-year extension following the second.
"Heís on a contract for one year, and weíll do whatís right, when the time comes,Ē Raiders managing general partner Al Davis told reporters Sept. 12. ďWe always have, for our great players and for those who help us. He knows that.
Seymour reportedly has four children and is the guardian of a 15-year-old cousin, who had recently joined him in the Boston area. Seymourís family will return to South Carolina.
"I had a lot to think about with my wife, my family, my friends that are close to me, just a lot to think about as far as how do we make this work, Seymour said. "How do we make it happen? I talked with coach (Tom) Cable, and I talked with Mr. Davis as soon as this happened, and I assured them I wanted to be an Oakland Raider. They saw something special inside of me, and I just hope that I can bring what they saw. And thatís my job to go out and do that, and I know that I will.Ē
Raiders coach Tom Cable said he expects Seymour to play in Oaklandís season opener against San Diego on Sept. 14. His pass-rushing and run-stopping ability should help upgrade the Raiders defense, which ranked 31st against the run in 2008.
Since going to the Super Bowl following the 2002 season, Oakland has had the worst run defense in the NFL, allowing 141.7 yards per game rushing and 122 touchdowns rushing.
Cable said Seymour is the Raiders' starting right defensive end.
"Weíve got a lot of good players on that side of the ball," Cable told reporters Sept. 12, "but we needed a piece that would cement the entire group. As this thing went, this was a shock to him. This was something new for him, something unexpected to he and his family. So we chose to really kind of take the path of let this thing work itself out if itís going to. And it did.
Seymour said: "I wasnít just sitting around (since being traded). I always pride myself in being in condition, being a well-conditioned athlete. Iíve got a couple of oak trees in the back, and I was hitting a couple of oak trees in the back, doing some rip moves.Ē
Seymour, who will wear uniform No. 92 with Oakland and not the No. 93 he wore with New England, goes from a perennial Super Bowl contender to one of the NFLís worst teams. The Patriots are 77-19 the past six seasons while the Raiders are a league-worst 24-77 over the same juncture.
The 6-foot-6, 310-pound Seymour has been a key player for the Patriots since being selected sixth overall in the 2001 draft. The former University of Georgia star has played on three Super Bowl champion teams and recorded 39 career sacks. He was named to the Pro Bowl five straight seasons, starting in 2002.
"I feel like Iím midway through (my career),Ē Seymour said. ďIím 29 years old and last time I checked, 29 isnít old. Iím not going to say what Iím going to do out on the field. I know Iím going to come make this commitment to the Oakland Raiders, the Raider Nation; that theyíre going to get everything that I have."
Contributing: The Associated Press & Contra Costa Times
Updated: 09-12-2009
OAKLAND RAIDERS RAP
Archives | Court | Home | Links | Schedule | Tickets