Turner Fired


The Raiders fired coach Norv Turner on Jan. 3 after consecutive losing seasons. He had a 9-23 record, including 1-11 against AFC West opposition.

Turner, 53, reportedly met with Raiders managing general partner Al Davis before noon and was informed of his dismissal. The coach reportedly had one year remaining on his contract worth about $1.75 million. He signed a three-year deal in January 2004.

His firing was imminent as the Raiders floundered during the second half of the 2005 season. They lost their final six games and eight of nine to finish at 4-12 — equaling the franchise's worst record since 1962. Turner went 5-11 in 2004, his first season with the Raiders.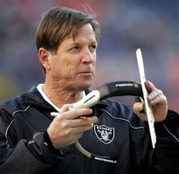 Entering the 2005 season, there were high expectations for Turner (right) to develop a potent offense after offseason acquisitions of wide receiver Randy Moss and running back LaMont Jordan. The Raiders scored only 51 points and six touchdowns in their final five games. They scored over 23 points only twice, and averaged 18.1 points per game (23rd in the league.)
Turner's hiring as the franchise's 14th head coach was based on his reputation as a designer of productive offenses. With the Raiders, his offense never developed a rhythm.
"We didn't score enough points with the firepower we had," Davis told reporters in a conference call Jan. 3. "He came in with a trademark of power running, vertical football. And for whatever reason, it wasn't there. I didn't feel the fit was right, and I think he agreed with me."
Under Turner, the Raiders led the league in penalties the past two seasons. In 2005, the Oakland players lacked focus and some of Turner's play-calling was criticized.
As the season progressed, the relationship between star player Moss and Turner became strained. After Oakland's season-ending loss Dec. 31, Moss reportedly left the locker room before Turner addressed his players. In Turner's defense, many Raiders supported their coach.
In 2005, the Raiders were 0-6 against AFC West opposition — a first since Davis joined the franchise in 1963. Also, the Raiders have three straight losing seasons for the first time since the franchise's first three seasons (1960-1962). Oakland's 13-35 record the past three seasons is the worst in franchise history.
"I don't think this was a surprise to anyone. It was speculated over the last two months," Turner told reporters Jan. 3 after being fired. "I wanted to be here, and you take a job with the idea of doing a good job, getting the job done and being successful."
Davis said: "This is a tough part of professional football. I don't particularly like it. But the football was not acceptable."
Turner's successor will be the Raiders' third head coach in five years. Turner replaced Bill Callahan after the 2003 season. Since 1995, the Raiders have had five head coaches — Mike White (1995-1996), Joe Bugel (1997), Jon Gruden (1998-2001), Callahan (2002-2003) and Turner.
Gruden, who had 40-28 record in Oakland, is the only Raiders head coach to stay on the job longer than two years since 1995.
"The No. 1 thing I've learned in this league, and what everyone's looking for, is the quick fix," Turner told reporters. "I'm not sure there's such a thing."
Davis said: "It is a very tough moment for people. In a sense, our heart goes out to him, but we also know the Raiders do have a commitment to excellence. We want to win. We didn't win."
Potential candidates to replace Turner reportedly are former Raiders coach Art Shell, 49ers assistant coach Mike Singletary, Cleveland Browns offensive coordinator Maurice Carthon, Fresno State coach Pat Hill, Baltimore Ravens offensive coordinator Jim Fassel, former St. Louis Rams coach Mike Martz and Ravens quarterbacks coach Rick Neuheisel. Shell, a Pro Football Hall of Fame lineman, was fired by Davis in 1994, after going 9-7.
Turner had a 49-60-1 record with the Washington Redskins in nearly seven seasons. Under Turner, the Redskins had three winning seasons and were 7-6 at the time of his firing with three games remaining in the 2000 season.
Turner's final win for the Raiders was a 16-13 victory over the host Redskins on Nov. 20, 2005.
Updated: 1-3-2006
OAKLAND RAIDERS RAP
Archives | Court | Home | Links | Schedule | Tickets