OAKLAND RAIDERS RAP
Turner Succumbs


Raiders free safety Eric Turner lost his battle with cancer on May 28, 2000. Two weeks after denying reports he was gravely ill, Turner died at Los Robles Regional Medical Center in Thousand Oaks, Calif. He was 31.

The cause of death appeared to be complications of abdominal cancer, according to Craig Stevens, medical examiner at the Ventura County Coroner's office.

The Los Robles Medical Center issued the following statement: "Mr. Turner arrived by ambulance on Sunday, May 28, at 10:30 a.m. He was having trouble breathing. He was stabliized in the emergency room and admitted to ICU, the intensive care unit. He died at 4:35 p.m."

The Raiders organization said in a statement: "We have lost a great warrior on the field and a great teammate and father off the field. The Raiders family will miss Eric's special qualities. Unfortunately, millions of people will not be exposed to the greatness of Eric Turner's winning personality and talents in the decades to come.

"Our prayers continue to go out to his family and friends at this time."

Early in May, there were published reports about Turner's declining health.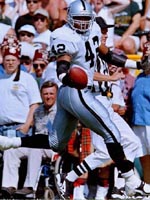 On May 11, the Los Angeles Daily News reported that Turner (right) was being treated for "a serious stomach aliment" that threatened his career. Three days later, the San Jose Mercury News reported the nine-year NFL defensive back had intestinal cancer and had lost 70 pounds from his playing weight of 215.
On May 15, Turner issued a statement through his agent, Mike Sullivan, that reports concerning his illness were unfounded.
"I realize people are concerned, but I have chosen to keep this issue within my family," Turner said in the statement. "Contrary to published reports I have not lost 70 pounds and I am not gravely ill...I will make another statement when my family and i deem it appropriate."
The Raiders initially refused comment even though Turner missed both of the team's minicamps in March and April. His absence was attributed to personal reasons.
Turner is survived by his son, Eric Ray Jr., who is 9.
"It's an unbelievable tragedy," Raiders coach Jon Gruden told reporters the day after Turner's death. "It's so sudden ... so final. It's just awful."
Turner signed as a free agent with the Raiders before the 1997 season after spending his first six NFL seasons with Cleveland Browns/Baltimore Ravens. He led the Raiders with 111 tackles in 1997, but was limited to six games the following season because of a foot injury. Despite missing the final six games of last year with a calf injury, he finished tied for the team lead with three interceptions.
Two of his highlights with the Raiders came against the Denver Broncos. In 1997, Turner returned a fumble 65 yards for a touchdown during the Raiders 28-25 victory. The following season, he returned an interception 94 yards for a score during a 34-17 loss.
Turner was the second overall choice in the 1991 NFL draft after an All-American career at UCLA. At the time, he was the highest-drafted defensive back in league history. He was named to the Pro Bowl twice.
---
Cards can be sent in care of the Eric Turner family to the Raiders training facility, 1220 Harbor Bay Parkway, Alameda, CA 94502. In lieu of flowers, donations on behalf of Turner can be sent to the Muscular Dystrophy Association, 2501 West Burbank Blvd., Suite 306, Burbank, CA 91505.

Published: 5-30-2000

OAKLAND RAIDERS RAP

Archives | Court | Home | Links | Schedule | Tickets